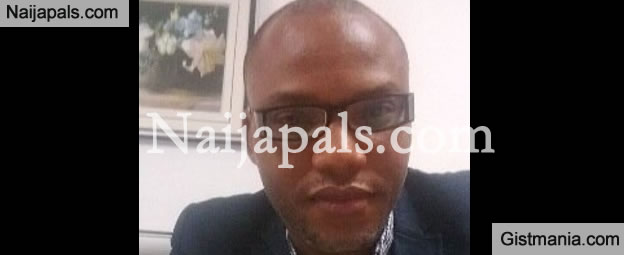 Director of Radio Biafra, Nnamdi Kanu who recently threatened delegates at the ongoing National Conference to negotiate the withdrawal of Biafra from the Federation or face the wrath of the Igbo people has said Nigeria would seize to exist by December 2015.
According to him: "There is no going back, by December 2015, Nigeria would have seized to exists; we shall fight until we get Biafra, if they don't give us Biafra, no human being will remain alive in Nigeria by that time; we shall turn everybody into corpses; you better go and buy your coffin".
"Nigeria has no choice because Biafra will come on or before December 30, 2015″.
Nnamdi Kanu has shown his readiness to fight until the Republic is realised made this declaration on May 30 while speaking at the maiden commemoration of Biafran Day held at Ngwo, Enugu State.

He also regretted the non-payments of benefits due to Biafran soldiers saying " It is a continuation of the same injustice that led them to try to extricate themselvesfrom this Luggard creation called Republic of Nigeria.The Yorubas, Hausa Fulani have been paid and then those of them belonging to Biafra have notbeen paid. It is an injustice thatmust be addressed and that is part of the reason why we are doing what we are doing because in the new Biafra we would not have this level of injustice"
Kanu while warning that the indigenous people of Biafra would commence what they called a new wave of freedom, fighting to carve a seperate state of Biafra from the present Nigeria said "We come in peace but we bring hell with us. If there is no Biafra this palce will be completely destroyed. Everything will die or they give us Biafra. So there is and will be no compromise. We won't retreat and we wont't surrende. We have come here to fight for our country or we die fighting for our freedom".
The Biafra boss who accused successive government and the present President Jonathan's led administration of deliberately marginalizing and making life difficult for the Igbos urged the Igbos to pull out of Nigeria while calling Igbos to embrace and keep faith with Biafra, which he assured, will definitely come to reality.

He pointed out that as long as the intention and purpose of the amalgamation of North and South were designed to cheat the South, the nation would never move forward, "because any country that makes injustice its watch word can never prosper".
Kalu who was officially handed over the leadership of Biafra during the event remains eternally grateful to the Biafra leader, late Ojukwu, and others who laid down their lives for the struggle as heunveiled a multi- million naira cenotaph in memory of Biafra fallen heroes killed in the civil war during the event.
---
Posted: at 2-06-2014 04:22 PM (9 years ago) | Hero