The transsexual bikini model who claims to have sent Jennifer Lopez's boyfriend Casper Smart explicit photos of herself has spoken out.

Sofie Vissa said that the pair began chatting on Instagram last month before sharing raunchy images, and added that Smart clearly knew that she is transgender.
Vissa said 'I'd do hashtags on Instagram… to get a lot of followers I'd put #TS or #Shemale or #transgendered on them. I remember I put those hashtags on one of my photos and when I went back to look at my phone I'd got a request from Casper.'
Vissa alleges that the 27-year-old dancer began chatting and told her that he liked her 'water pics'
after seeing bikini photos of her.
'I was like, "Which one? How are you?" and he wrote, "Second one with the blue top,"' she recalled.
Vissa claims that she asked Smart why he didn't physically 'like' her photos on Instagram, and he is said to have responded: 'Because a lot of people monitor what I like. And I think telling you is better, don't you?'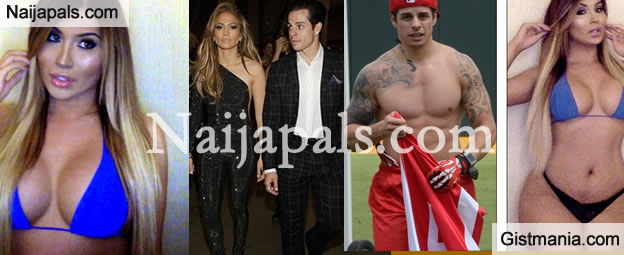 Smart allegedly told Vissa, 'I wanna see more, what you got?' and she claims that she replied with the words: 'What do you wanna see? My smile?' Vissa claims Smart said in response: 'Haha sure. That's the best attribute on a person.'
According to the claims things grew more flirty between the pair. Vissa alleges that she wrote to Lopez's boyfriend: '"I like smiles, eyes and nice asses," and he put "me too. I got all of those."'

Vissa said that contact between herself and Smart ended when she sent him an entirely Nood photo. He is then said to have allegedly deleted the photos and messages they exchanged.
This is the first time Sofie has spoken out since a friend of hers relayed her story on Nik Richie's gossip website . Last month the anonymous reader maintained that her friend Sofie had been getting close to Lopez's 27-year-old choreographer partner.
'Nik, sooo my homegirl has been talking and linking up with Casper Smart for a week now… they met online and I guess they Both follow each other. She texted me saying they exchanged pictures XXX's… and what not… I'm liked shocked… didn't know he was down for Us beautiful Transexual WOMEN.'


There were also screen grabs of their alleged messages where Smart told the beauty 'I wanna see more what else ya got.'

The unidentified pal added:
'I myself didn't believe it…. I'm like Casper Smart? JLo's MAN!!!!!!! Guess he likes beautiful women and the best of both worlds… crazy what a simple hello and simple talking and flirting can end up to….'
While Sofie only says they had plans to meet, her said that they did in fact spend time together. She said:
'My girl said she seen him a few times and he picked her up in his big truck…. I didn't believe it so I asked for screen-shot and here they are. I guess my friend Sofie is f***ing Casper Smart.. I'm asking for more screenshots she has them ALL.'
Sophie Vissa reportedly has naked images of Casper and is 'shopping them to the highest bidder'. A claim Casper says is false. It has been previously reported that one of the dancers Casper has worked with claims he is gay. But both Casper and Jennifer have denied that claim in the past.
---
Posted: at 4-06-2014 04:04 PM (7 years ago) | Hero