Veteran actor, Kayode Odumosu, aka Pa Kasunmu, tells Ademola Olonilua about his experiences in life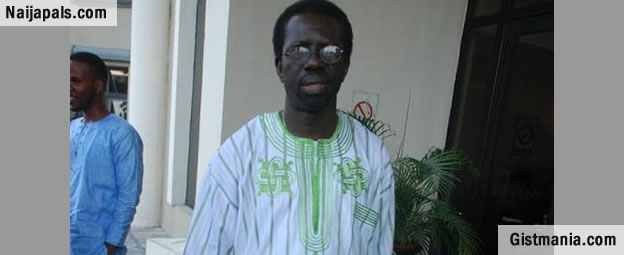 How is your health now?

My health is better now, glory be to God.

What exactly was the nature of the ailment?

I cannot really say what the nature of the ailment was but the day I got to know was when I went to my family doctor's hospital at Jibowu, Lagos. They tested me and said I needed to go to another laboratory for a more comprehensive test. When I went to the laboratory, they checked my heart and carried out some other tests on me and later referred me to Lagos University Teaching Hospital, Idi-Araba. It was there that I knew that I needed to be thoroughly checked medically. That was how it started in 2009. It was there that I realised that I had problems with my heart, liver and it was getting to the kidney before it was stopped at LUTH.

What are the lessons you learnt from that experience?

I believe that everything is from God because before this ailment started, I was building a house in Ogijo, Ogun State and my friends advsed me to look for money for the roofing of the house. They told me that I should make sure I get about N3m for the roofing and I was surprised that it was that expensive. I asked them if the money was only for the roofing and they laughed and said yes. We were all discussing and playing but I took it seriously and was saving the money. I was able to raise N4m before the ailment started. I did not know that the money I was gathering was for my health and not for the house. I had to spend the money on my medication and that is why I said everything was from God. It is a miraculous thing. When I had N600,000 left of the N4m, I sold my property. I sold two plots of land at Ibefun in Ogun state. Later on, I had to sell my BMW car as well and because my son was also contributing money too, I had money for my medication. Later, my sister working at LUTH told me that I could not continue like that; she said I needed the support of the public. I declined and told her that I would find my way around it financially. She did not listen to me and went ahead to inform the public about my illness but I thank her and God. I did not know people love me this much and they give me money which helped in my treatment.

Did you also sell your house at Ogijo?

My house at Ogijo is still there, I did not sell it. It is still under construction. I have another house at Abeokuta which has been completed; what remains now is just water. I want to dig a borehole there because the water in the area is not so good.

We learnt that Lagos and Ogun states helped you when you were ill, is that true?

Yes, it is true. It is not that I went to the Lagos State government for help but I think government officials saw the news on television and in the newspaper and they reached out to me. They invited me to First Cardiology at Ikoyi, I was checked and from there, I was referred to about two other hospitals on the Island. Lagos State paid all the expenses I incurred at each of the three hospitals I visited and it later gave me N1.5m and that was all. Then the Ogun State government came in when my son and my sister went to meet the officials. My family went to the governor's office and explained everything to the officials there and they promised to get back to me the fourth day. To my surprise, the officials came and gave me a cheque of N2m. It was the grace of God. I was living at Mushin then but I could not keep staying there because I could not continue to pay my rent. I had to move to my sister's house for proper care.

With the number of your appearances in movies, most people thought you were a rich man. Is that perception of you wrong?

As an actor, you are bound to act any role you are given. If I have to act like the poorest man in the whole world, I would do it. I would have to change my style and my character to what is required to translate the role I am given. That is why I can act like a big man and people would believe. I can act like the president of America and that is an actor's job. What people see on television is very different from real life. There is a huge difference between Pa Kasunmu and Kayode Odumosu.

Which would you prefer between being wealthy and being popular?

There are three different things in life; being popular, wealthy and poor. If I am a wealthy man, it means I would be very rich and you know how you would meet me when you approach me. If I am a poor man, you would know immediately you get close to me while a popular man is known by all. To me, I love being a popular man than being a wealthy man. I so much love God for where he has placed me, I need money like everyone else but I prefer being popular than being wealthy because a wealthy man has no peace of mind. I might be wrong but that is the way I see it.

Would you say that your illness was a blessing in disguise?

Yes, I would say that it was a blessing in disguise to me. That is how I see it. There are some people who love me and who had been trying to get close to me but didn't have the chance to meet me. It was an opportunity for them to get close to me.

How did you come up with the Pa Kasunmu brand?

As an actor, it is not necessary to have a stage name but when we started in 1968, I did not join any group to become a star. No actor then would wake up and decide to become a star or a celebrity. We just acted and left but it got to a stage where I had to pick a name. Back then, we did more of stage plays and some people were calling me Akanni which was a character I acted. If you act a character well, the name would stick with you. When I left the Akanni stage play, I later worked with Baba Suwe and I was referred to as Baba Idogo; there is a place called Idogo in Abeokuta, and that was the character they wanted me to act. When I acted it well, the name stuck. Later on at Ibadan, I was with Olofa Ina and Abeni Saje, we were on set for a video recording and while we were on, Abeni Saje was meant to call me the name given to me on the set but she mistakenly called me Sir K. We had to re-shoot the scene. That gave me an idea that I could take a name that started with the letter K and I did not want to answer my real name, Kayode. When people were calling me Sir Kay, I thought it would not be a mistake if my stage name started with the letter K. I began pondering on it and ended up with Kasunmu. I could be Kasunmu as a young person and Pa Kasunmu as an elderly person. That was how I stuck to Pa Kasunmu and people received it well.

Your character is known for the funny way you speak English and even the pipe you smoke. How did you come by those concepts?

It makes me remember my friend's dad, he was a disciplinarian. He never took no for an answer and he did not take nonsense from anybody. My friend's name is Ladunjoye while we called his father Pa Ajayi. The man is dead now but I picked the way Pa Kasunmu talks from him. He also smoked cigarettes but I changed mine to pipe. I did not want to be smoking cigarette anyhow.

How did you get into acting?

We were living at a village called Iponri then in Lagos. It is still in existence but it has changed; it is no more a village. Then, there were some people who gathered together to form a group called Simbad Concert Party. We called it concert party then and I used to go there to watch them dance, sing and act. I picked interest in them. There was a time the man who beat the drums for them was absent for about two days and I volunteered to beat to assist. They said, 'you this small boy, are you sure you can beat the drum very well?' I told them to let me try and that was how I started in 1957. In 1958, I was invited to play a role for somebody who was absent as well. The person was meant to play the role of a teenager and I played the role very well. I was 15 years old at the time. According to them, I played the role very well because I was given a standing ovation and that was what encouraged me to go into acting.

Would you say that your getting into acting was by luck or an accident?

I would not say it was by accident; instead it was God's will. If God did not want me there, I would not have been going there to watch them. Also, the people who were absent would not have been absent or I might not have been there when they were absent. That is the way I see it; it is God's will.

Can you remember how much you were paid for a role you first played?

I think I was given five shillings. I was very happy and it was a lot of money then. I collected it and was happy and started having very big plans for it. I wanted to buy trousers and sandals from the five shillings.

What was your parents' reaction when you chose acting?

They did not like it at all, especially my mother because my father died in 1952. My mother did not like it at all because she thought actors were rascals. When I first started, I would not tell my mother where I was going. I would just find my way out and join the group without her knowledge. When she eventually found out where I was, she beat me there and I ran home.

At what point did she accept you as an actor?

It was later in my career when people started calling me the different names of the stage plays I acted in her presence that she began to relax. She would ask me why they were calling me different names and how I knew those who were calling me the names. I would explain and she would just shrug. Later on when I became Pa Kasunmu and people began to call me the name, she asked if I was Pa Kasunmu and I replied her that I was. She was shocked but from then on, she began to give me her blessing.

How would you describe yourself as a kid?

At home, I was a very gentle boy but outside home, I was naughty. I was the exact opposite of what I was at home. I was very radical and stubborn. There was a day when a young boy offended me and I told him I would show him. I was so stubborn that I was part of the people that killed a monkey in my area. I only planned and told my guys ways to go about an idea but I was never involved. That is why they called me father or senior planner. When the boy offended me, I warned him. I watched him and locked him inside the monkey's cage. I padlocked the cage and took the key away. They had to break the cage to set the boy free. His mother came to our house later in the evening to report me and when my mother asked if I did it, I simply asked her whether she didn't trust me again. That was how the woman was chased out of our compound. Everybody in the house attacked her because I was perceived as a gentle boy. During my primary and secondary school, I was called senior planner and when I got to Yaba College of Technology, they called me Father.

If you were not an actor, what would have you have become?

I was planning to become a lawyer but my mother and her siblings were against it. They knew that I could be stubborn at times. They knew that if I said no to something, I would not do it. They said that I could not become a lawyer because they would not want someone to kill me. When they said that, I knew they meant it. They said I should study another course in school even though they knew I had the brains to study law. I had to change to Business Administration. With my knowledge of business administration, I was able to manage a company where I acted as an administration manager for a transport company, SBTS, in 1971.

Are you back into acting now?

Yes, I am fully back. I am waiting to be invited and people have been calling me to ask if I am ready and I told them yes.

How has it been coping with women?

Women would definitely come but it depends on the man. You must have resistance and no in your vocabulary. You would not say no bluntly but have a mild way of saying it. You would find a way to draw them close, but not intimately. I have had many experiences. There was a time a lady tried to seduce me when we went to Abeokuta for production. I cannot remember her name now, but she was part of the production. She came to me and said people hardly saw me around. She was beating around the bush, probably not knowing how to say what was on her mind. She said I hardly mingled with ladies and that I always kept to myself. When I told her to say what she really wanted, she said she was not going home that night. And when I asked her why, she said I should not bother myself with the reason. I advised her to go and meet whoever brought her there if she needed any help. I told her to meet the director or producer and I thought we had ended it there but I was wrong. I didn't know how she got my hotel room number. Later in the night, I heard a knock and I normally joke with people who knock on my door by saying, 'come in if you are good looking.' Behold, it was the lady. When I demanded what she was doing in my room, she said that was an odd question, after all, she said she had told me she was not going home. She said that she wanted to sleep with me. I had to leave the room and called the director to report her. He rushed into my room and asked her to leave and that was the end. Anytime she saw me afterwards, she hissed and did not greet me. There was another incident that happened also in Abeokuta. I did not even talk to this girl at all and we never said a word to each other. She was not one of the actresses but she came around to meet her friend. We were watching a movie in the producer's apartment and when I felt like sleeping, I went to my room and behold, the girl was sleeping on my bed facing the wall. I woke her up to remind her that the room was mine in case she made a mistake but she told me she was aware. She asked me to be a gentleman but I told her that I didn't get along with strange women, no matter how beautiful they are. Reluctantly, she left for her friend's room but unfortunately her friend was having an affair with another person, so she couldn't sleep with them. I locked my door and did not really bother myself with what happened to her.

When you look back at your life, would you say you have lived a fulfilled life?

Yes. I don't have to say much about that, I am fulfilled. I am really fulfilled and I thank God. Glory be to God.