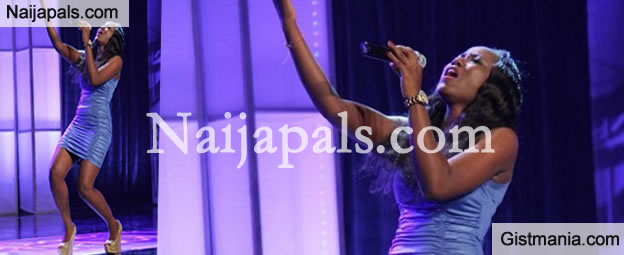 On Saturday, 7th of May, 2014, the Nigerian Idol competition came to an end and Evelle was announced as winner of the talent hunt show.
However, instead of the young lady to shed tears of joy, the reverse was the case and the reason was not far-fetched. Her mother, was involved in an auto accident while on her way to the show that made her daughter N7.5million richer excluding a car she was presented with.

We were reliably informed by family sources that the woman was coming from Ekpoma in Edo State for the show, when she was involved in the accident. She was later rushed to the hospital for treatment.

Evelle, while crying at the event, after she won the competition, disclosed that her mother was lying in the hospital as a result of the accident. She, however, revealed that she would first take care of her mother with the money she got from the competition.

A family source also informed us that Evelle's sister also became unconscious after she was pushed during a rush to gain access into the venue. She was later taken to an ambulance packed outside the venue, where she regained consciousness.
---