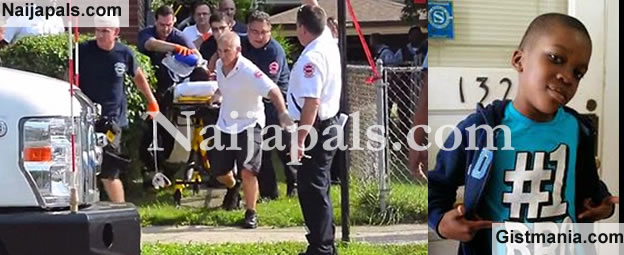 Police in Chicago are trying to unravel the mystery surrounding the death of a 9 year old boy who was shot multiple times in a neighbors backyard.
Antonio Smith ran away from home after her mum failed to get him a cupcake. According the mother, Brandi Murry, Antonio had called her at work earlier on Wednesday asking about a treat, reported the Chicago Sun Times. She told the 9-year-old she would be home soon and denied his request. Upset, he left the house about 3:45pm.
'He got mad because I didn't give him what he wanted,' Murry said.
About an hour later, Antonio was being rushed to the University of Chicago Comer Children's Hospital, with gunshots to the chest.
When Murry arrived home and found Antonio gone, she called police to report him missing and they arrived five minutes later. Read more of her quotes below.
'My baby, he was a good kid,' his mother wailed. 'He was a mama's boy. He stayed up under me. He called me every day. I'm at work, 'Mama, I love you. Mama, can I have this. Mama, can I have that.
'My boy, he was just an angel.'
This is so sad, may his soul rest in peace.
Posted: (6 years ago) at 22-08-2014 03:04 PM | Hero