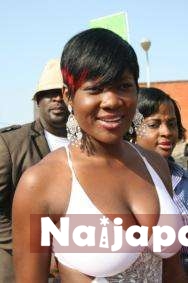 It was a very serious commotion on the set of ONE LOVE, a movie shot on locations in Asaba and directed by Michael Jaja for IMMORTAL FILMS LTD on that faithful Sunday, 30th of August 2009. In the process of fighting as demanded in the movie between Mercy Johnson and Biola Ige, another talented fast rising Nollywood actress, their clothes were torn, revealing every vital parts of a woman.

It wasn't until after the shoot that Mercy's personal assistant who was very close to the monitor with the director told her that her boobs were out, so bad that even the nipples were showing. Mercy got worried and walked up to the director and pleaded to have a preview of the scene but he refused.

She got mad and the ladies on the set also protested, yet he wouldn't change his mind saying that he got the exact shot he wanted as the director, then trouble ensued. Mercy was ready to either reshoot that particular scene or refund her fee for that project and walk away, but the director was ready to quit the job rather than give into Mercy's demands.

After two hours or there about, people were able to calm the situation and eventually the scene was reshot. Mercy kept talking all the time about her arrangements to get married soon and she wouldn't want any stumbling blocks in the way.
Posted: at 29-09-2009 09:22 PM (12 years ago) | Upcoming