Dr. Shina Eddo is such a funny man. Dr. Shina is the owner of Cave night club in Ikeja and he says though he is into strip club business, but he helps many undergraduates fulfil their dreams. They earn as much as N600,000 a month and I have over 70 girls working for me, Dr. Shina said in an interview with icampusng.com.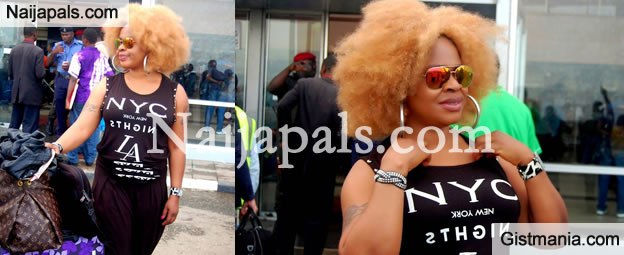 Where do you get the girls?

We don't look for them, they look for us. Once you are able to position yourself in this business, the girls would come looking for you. We have accommodation here at no cost and they have all the freedom here, they are making good money and they catch all the fun. We have a clientele, the big boys come here, they come, they don't pay anything for accommodation, they don't pay for feeding, their welfares are well taking good care of and they make good money, so that is why they all keep tripping in. Other girls all over Nigeria, once they hear what we pay them here, they keep coming in and we keep having them, we should have about 70 girls if I am not mistaking.

From my interactions with the girls, I noticed some of them are educated and others are in the universities, How were you able to convince them? Was the money part of the luring factor?

Actually the kind of money they make help them to take care of a lot of issues, like most of them are in school and can imagine when you are in school and in a situation where you have to sleep with a guy to get 5/10 thousand or what have you but here you don't have to sleep with anyone. In a strip club or you have to do is lap dance a guy or sit on him, when you sit on him, you wine and he gives you money, some can give you N5000, some can give you N10,000, some can even give you N20,000, it depends. So the kind of money they make here enables them to take care of their parents, some of them have kids, some of them help their siblings, those going to school take care of their school needs and sort a lot of issues for them.

In this place a girl makes up to N150, 000 in a week. We open on Tuesdays to Sundays and we go off on Mondays. If a girl makes up to a N150,000 in a week that is about N600,000 in a month and when she goes out to tell her friends that this is the kind of money she makes, her friend will want to come too and that is why they keep coming from different parts of the world. We have girls from Kenya, Cameroon, Ghana just name it.

Have you had any parent come here to fight you before?

No, we don't take minors here, in Nigeria contest, a minor is somebody below 23 unlike overseas where a minor is somebody below 18 years of age, so once you are a minor we don't allow you here in whatever capacity, weather as a dancer or a customer and for guys, once you are under 27 you are a minor and we will not let you in, you must be close to 30 before we let you in, you must be very matured and very responsible.

Have you had people try to make you feel guilty sometimes or do you feel guilty that you are promoting s*x?

Guilt comes from the mind, you only feel guilty if you don't know what you are doing but as far as what I am doing is good and people like it then I am good to go. I am just a fun provider, an entertainer. Big boys all over Lagos, men, women, they all come here despite the fact that we charge N5,000 at the gate, they still beg to come in, even if we tell them at the gate that we are not ready they still wants to come in. Like on Saturdays and Sundays, you will see all the foreign expatriates coming into Lagos, they all come here to have fun.

How many universities girls do you have here?

They are so many, most of them are polytechnic students.Have lost counts.

Tell me the existence of the licence; is it state licence or federal licence?

It a state licence, Lagos state licence. You can see it on the wall as you enter.

And you pay yearly licence fee and tax?

Yes I do, you don't get licence without paying and we pay our tax and every other thing. We pay all our dues to the government; we don't owe the government anything.

Do you get harassed?

Not at all. All top government officers, politicians, this is their next home.

Do you give the girls ID cards?

Of course, they have their ID cards.

I am curious, what do the ID cards carry?

They are like dancers fabricator, for the dancers we don't write stripers, we just write a dance fabricates.








For more scintillating and juicy stories, follow the official Naijapals accounts On Twitter-

@Naijapals

and Facebook -

www.facebook.com/naijapals
---
Posted: at 20-10-2014 07:56 PM (6 years ago) | Addicted Hero