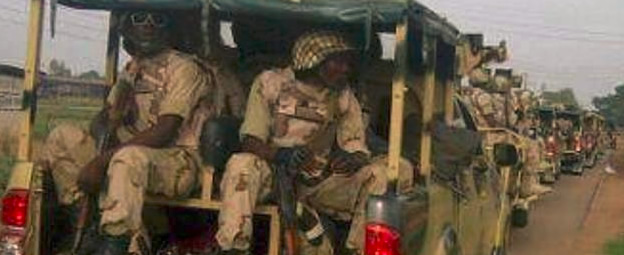 Five or six military commanders have been arrested and detained by the army after they abandoned, withdrew from Mubi, Mararaba, Michika, Madagali, and Vimtim communities when Boko Haram men attacked the areas last week, allowing the insurgents to take over some areas.
Some soldiers were also detained. The military commanders are being detained at the military police guard room at the 23 Brigade HQ, in Yola, Adamawa state.
The commander whose names and ranks were given as Colonel Ibrahim, Lt. Colonel Magaji and three others abandoned the 213 Brigade headquarters a few minutes after Boko Haram militants reached Mararaba and Hildi on the outskirts of Mubi.
Defense officials in Abuja had told us that investigations were ongoing as to the cause of abandonment of the battle front by the commanders.
Another set of commanders from the 234 Brigade are expected to be detained by the military authorities as soon as they leave the MRS Hospital in Yola in a day or two according our sources.
The team includes Lt. Col O.A Agwu and his lieutenants. They equally fled the battle scene in Mubi and allowed Boko Haram militants to take the town with resistance. However, Lt. Col Agwu's pick up van somersaulted twice and crashed injuring him and his lieutenants as they fled Mubi.
Mubi had three army battalions comprising of the "234 Brigade, the 213 Brigade and the 21 Support Group" when it fell to militants last Thursday. The soldiers fled alongside civilians to neighboring villages in Nigeria and Cameroon. A Punch newspaper report today claims that over 300 soldiers fled to Cameroon.
we could confirm that the rest of the soldiers are in "MIA" mode in Song Adamawa state where they await further orders to act against Boko Haram.
---
Posted: at 3-11-2014 09:14 AM (7 years ago) | Hero