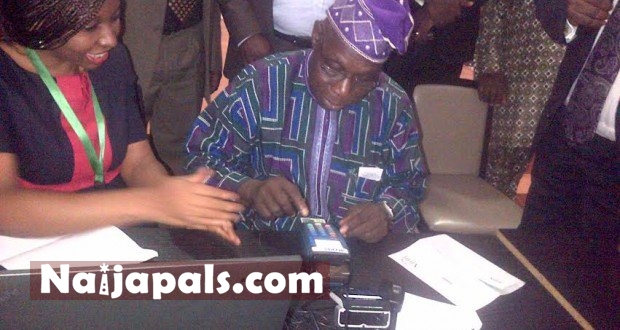 Former president Olusegun Obasanjo on Monday collected his electronic National Identity Card from the National Identity Management Commission (NIMC), after spending over 10 minutes to activate the card as well as its inbuilt applications.
Obasanjo, who in his characteristic manner of throwing banters, noted that not many people know that he has three identity cards.
The former president listed his international passport, the National Identity Card and his Owu tribal marks (six lines incisions on each side of his cheeks) as his means of identification.





Obasanjo, who spoke at his mansion on the Presidential Hill Top Estate, Abeokuta, Ogun State, when the management and officials of the NIMC brought the card to him, also asked how much of the functions inherent in the e-card would be beneficial to the people in his Ibogun village and at what cost to them.
He said," Not many people know that I have three identity cards. The first is the international passport, the second is National Identity card and the third is my tribal marks. It is not funny that I'm collecting the National Identity card at a time that I'm unemployed and unemployable.
"What we have now is what we wanted to do in 1979 but not as complex as this one and also not as sophisticated as this. Although we are getting the card late, but we are getting the best that technology can offer.

"I have my worries and I always express my feelings. I have got special treatment but how will it be for someone in my village to be captured?
"How much of this functionality in the card will be useful to him and how much will be paid knowing that poverty is still ravaging the rural dwellers. These are issues you will have to address."
He said the e-national identity card would not only help the country in tackling its security challenges, but would also assist in "intelligence gathering."
---
Posted: at 3-11-2014 04:54 PM (7 years ago) | Hero