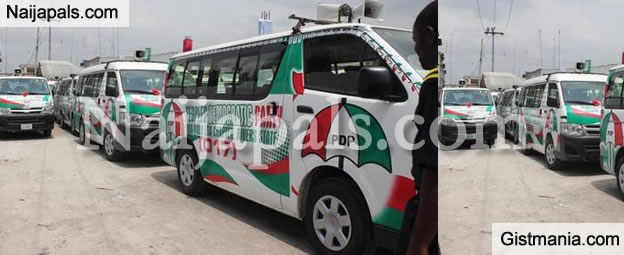 The fear of being attacked by citizens opposed to the President Goodluck Jonathan's second term forced commercial and private drivers in Kaduna State to turn down the Peoples Democratic Party's 70, 000 offer to take Jonathan campaign vehicles from Kaduna to Kano State.
According to SahharaReporters, the ruling party could not get drivers to steer the vehicles painted in the PDP and Jonathan/Sambo campaign brand to the neigbnouring state.
The report said several drivers who were approached to drop off the campaign vehicles said that Jonathan had failed the north and they could not in good conscience be seen driving vehicles with his campaign logo between the two most important cities in the north.
The drivers were offered N70, 000 each but they refused to move the vehicles numbering 80 to Kano from the Kaduna government house where Vice President, Namadi Sambo and Kaduna state governor, Mukhtar Ramalan Yero had them purchased and branded for President Jonathan's presidential campaign in Kano.
The reports added that the Presidency intervened and ordered the police and army drivers to move the vehicle under armed escort.