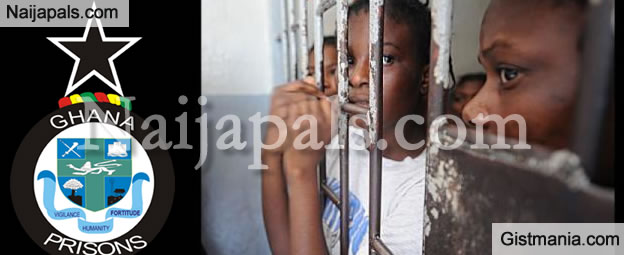 Nigeria's High Commissioner to Ghana, Ambassador Ademola Oluseyi Onafowokan has raised an alarm over the increasing number of Nigerians serving jail terms in Ghana, describing the increasing number of Nigerians in foreign prison all over the world as a National disgrace.


Quote

Firstly, I agree with you that majority of them are Nigerians, but should majority of them be Nigerians? We shouldn't even be saying such things with pride because it is a national disgrace. Every country we go, they are filled with Nigerians, why? It is unfortunate. But I believe if you are ready to take the risk, then you must be ready to dance to the music.Now to the question of helping with infrastructure and other things; Nigeria High Commission doesn't have the kind of money to build prisons. We are just here to do our core duties such as issuing passports, visa, supporting Nigerians in distress and to keep promoting the diplomatic relationship between the two brotherly nations

Ambassador Onafowokan said.
Ambassador Onafowokan says his personal efforts has helped in saving a Nigerian who was once put on death roll and that no Nigerian has died in any of the Ghanian prisons since he assumed office
"

Quote

As regard the issue of the report, I want to believe it was written by one of the prisoners and smuggled to someone to publish for them, because the report is not the reality on ground. First of all, I will like to assure you that no Nigerian has died in the prison. Secondly, I want to assure you that I visited them; spoke to them and I always sympathise with them. But the truth is, when you do illegal things in a foreign land, you should know you will be jailed in that foreign land, so why commit such a crime? Moreover, if they succeeded in making money from such illicit transaction, they use the money to harass everyone on the streets; illicit money source of which you will never know. I have visited them and I make sure people visit them regularly. I usually send my officials to take toiletries and other provisions to them. If you check on them, they are almost more than the Ghanaians in Nsawam prison in terms of population. They wouldn't stop doing drugs and getting involved in armed robbery cases. I remember a Nigerian was sentenced to death, I personally spoke to the Chief Justice and I wrote a letter to plead for his life, and he has not been executed, and I don't think he'll be executed. About the long sentences they are giving them, which I was told by the Chief Justice of Ghana Mrs Theodore Woods, they assured me that they will look into it, but they told me those sentences are to discourage other Nigerians from thinking Ghana is a safe haven for criminals. It is logical to make a U-turn if you know that you are likely to get a prison sentence of 50-130 years if caught committing crime as a Nigerian or a foreigner. But that has not deter them, as Nigerians fill up the Ghana prisons on a daily basis, and after being caught, they want us (Nigeria High Commission) to come and get them out. Also, any Nigerian prisoner released comeS to the Nigeria High Commission (NHC), we usually give them GHC100 ($40) which will take them to Lagos. Since I resumed as the High Commissioner, I have been doing that religiously. Sometimes when they come, I will ask them to be brought in front of me, and I ask them what led them into it, and afterwards, I counsel them. The question remains that when you know there is a reward for your crime if caught, why do it? On the question of prisoners exchange, I have spoken with the parliamentary Committee on Foreign Affairs and I mentioned the issue; I was made to understand that Nigerian prisons are too full, and that the prisoner exchange document has not been concluded yet. If you check countries around the world, you will find Nigerian prisoners there, and it baffles me. I think we need a national orientation because this is becoming a huge embarrassment to the Federal Republic of Nigeria, and this is as a result of the fact that they want to get rich quick. It's not a crime to be rich, but it must be earned. The High Commission is doing its best to ensure that Nigerian prisoners have a humanity touch. The High Commission doesn't have power to get them released; all we can do is to keep pleading"

he said. Ambassador Onafowokan stated that it was wrong for the Ghanian authorities to hand long jail term to foreigners as an instrument of deterrent but that as an Ambassador, he has no power to change the judicial system of a country. He argues that to serve long jail term is better than beheading which is the law in some other countries for drug traffickers. "

Quote

I agree that policy is not right. Like I told you, I sat down with Chief Justice Theodore Woods, and he promised to work on it. I don't think I can force authorities in Ghana to change its justice system. So also, Ghana High Commission in Nigeria cannot force Nigerian government to change our justice system. In some countries, the law prescribed that you will be beheaded if you commit certain crime, and there's little or nothing diplomacy can do to make them change their mind. I think to go to prison for a long time is better than being beheaded. But the best solution is to walk away from criminality

" he said.
---
Posted: at 6-01-2015 09:47 AM (7 years ago) | Hero