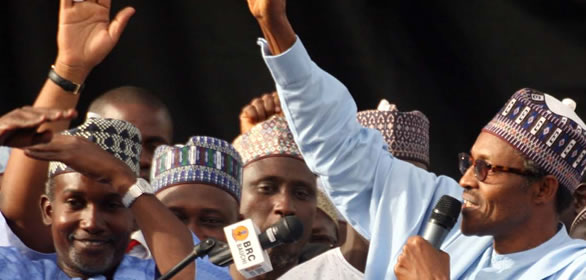 A Federal High Court in Abuja has ordered the service of court papers on the presidential candidate of the All Progressives Congress, Maj. Gen. Mohammadu Buhari, a fresh suit seeking an order disqualifying him from participating in the February 14 poll.

Already, there is a pending direct criminal complaint against Buhari before a Federal Capital Territory Magistrate's Court in Abuja asking the court to direct that the former Head of State "be brought to book" for allegedly claiming on an oath that he had a certificate he did not obtain.

Justice Adeniyi Ademola who is presiding over the fresh suit on Monday made an order of substituted service on Buhari and the Independent National Electoral Commission, who are the two defendants in the suit.

The court fixed February 9 for the hearing of the suit.

The plaintiff, Max Ozoaka, wants the court to disqualify Buhari from participating in the election for failing to accompany his form submitted to Independent National Electoral Commission with all relevant academic credentials.

He contended that the INEC FORM CF 001 submitted to INEC by the APC candidate was incomplete and therefore urged the court to declare the form as "not in conformity with the form prescribed under the Electoral Act."

He further stated that the failure of Buhari to accompany the INEC Form with evidence of his educational qualifications and evidence of his birth certificate or affidavit of declaration of age had altogether rendered the form inchoate.

Ozoaka, in a supporting affidavit to the originating summons, stated that the INEC Form submitted by Buhari did not meet the requirements under sections 31(1)(2) & (3), and 31(

of the Electoral Act 2010 (as amended).

He also faulted some pieces of information contained in other documents attached to the form, including Buhari's voter card which described the presidential candidate as a public servant.

The plaintiff urged the court to declare the voter card, the photocopy of which was attached to INEC Form CF 001, was false on the grounds that Buhari was not a public servant as of when the voter card was issued.

In the suit marked, FHC/ABJ/CS/14/2015, filed by Max Ozoaka, the plaintiff raised eight questions for the court's determination and prayed for among others, an order disqualifying Buhari from contesting or participating in the election.

The plaintiff queried the authenticity of the statement of result or result sheet presented by Buhari on the grounds that it was bearing 'Mohamed' Buhari as against 'Muhammadu' which is the real name of the APC presidential candidate.
Published at:
08:14 PM, 2/02/2015 (4 years ago)
Author:

MrJohn
Problem with this article? Please email reporter[at]naijapals[dot]com or visit our contact page
---