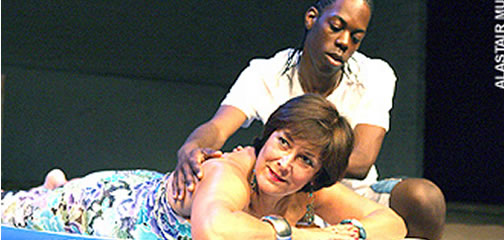 According to a popular proverb, Everyday is for the thief, but one day is for the owner of the house.
One Mrs Adebola Sikirat, is currently at war with her children after her sons beat up and injured a young man who has been in a romantic relationship with her. Mrs Adebola was said to be dating the man who is the same age as her first son, Joseph.
According to LeadershipNG, the lover boy identified as Maurice, was in the habit of visiting the woman's home located at Adeola Odeku street, Victoria Island, a widow, and most times, pass the night there. But the bubble burst when one of Joseph's friends who is also close to Maurice, confided in Joseph that Maurice is dating his mother and has been regaling them with how Mrs Adebola pants when he mounts her..
Joseph was said to have become very angry with the revelation and involved his younger brother Mark, They laid out plans on how to catch Maurice red-handed. They decided to lay ambush for the lover boy. True to the reports they got, Maurice came late in the night with the intention of passing the night there as usual, not knowing that his cover had been blown. After waiting for a while, the brothers went back to the house and met Maurice naked in their mother's bed. The angry sons descended on him, giving him the beating of his life.It reportedly took the intervention of neighbours before the badly wounded Mr. Maurice was released and rushed to hospital in critical condition.
Posted: at 11-02-2015 09:00 AM (6 years ago) | Gistmaniac