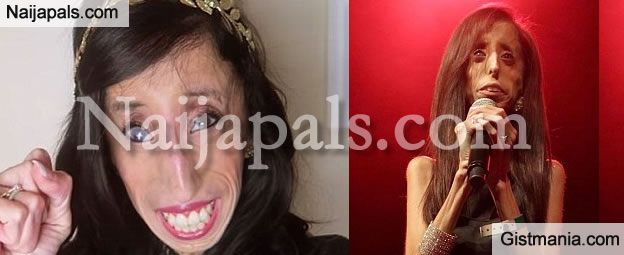 A woman branded the World's ugliest woman has hit back by releasing an anti-bullying documentary. Lizzie Velasquez who has been mocked by bullies from around the world,was a 17-year-old surfing the web, she came across a video of herself on YouTube that described her as the 'world's ugliest woman'.
The devastated teenager spent days shutting herself from the world behind a wall of tears, thinking her life was over.


But now 25, the inspirational woman has hit back at the trolls with an anti-bullying documentary about her life, describing her battle with Marfan syndrome and lipodystrophy ,a rare condition which stops her putting on weight.She said
All we had known all my life was that I had a syndrome which meant that I couldn't gain weight.At the time, I thought everyone looked like me.'I didn't recognise or tell that they didn't look like me.It was afternoon. I decided to go look for music on YouTube – and that's when I found it,'


'I don't even know why I clicked on it but I did and that's when I lost it.Calling me a monster or asking why my parents didn't abort me… how in the world can I forgive the people who told me to kill myself?'
She fought back by giving a TED Talk in 2013 which garnered over 10 million viewers and which she says 'changed everything'.
---
Posted: at 16-03-2015 12:38 PM (6 years ago) | Gistmaniac