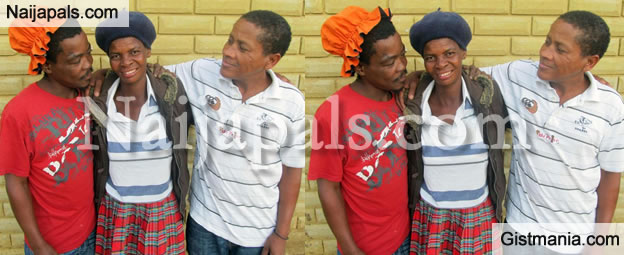 44-year-old Puseletso Motselebane is the new president of the female player club!
After 15 years of marriage the South African woman who has four kids, married another man. Guess why? Because her husband could no longer satisfty her in bed. And guess what? She is still married to her first hubby! It's one big happy threesome family!
She said,
After 15 years of marriage I love my husband as much as I ever did, but I needed more action in the bedroom than he could provide.
Puseletso said she hated the idea of cheating on her husband, so she decided to find herself a man who could satisfy her in the bedroom and move him into the house with her and her customary husband, Petrus Moshawa who is 51 years old.
I wonder if her husband gets to move his own girlfriend into their home?!
She continued,
People told me it was a bad thing and called me names, but I believe this is better than cheating
She gave some insight into why her husband wasn't bringing the action in the bedroom
Because of some chronic disease he couldn't satisfy me in bed. I felt guilty about my boyfriend so I decided to tell Petrus about Kagiso.
At first her hubby was not happy about the new man, Kagiso Monnamoncho who at 34 years old still has a lot of energy in him, but he came round to it at the end of the day. They are all living together in Khotsong kasi, Bothaville, Free State.
The mother of four children is planning to get married to Kagiso, this year…they are raising money for their wedding. She has three kids one with her first husband and a one year old with her much younger second husband! #PLAYERRRRRR
Puseletson may be married to two men but she has strong views on cheating. She said,
Most women I know in my kasi cheat on their husbands but they do it in secret. I decided to live with both of my men faithfully.
Hubby Number 1 says he is not completely happy with the situation but what can he do?
Although I have become the laughing stock of our kasi I have to accept things the way they are for the sake of my kids. I won't comment on our sex life, but as long as my wife is happy I am satisfied.
Hubby Number 2 however isn't worried that his wife already has a husband. He said,
When we first met I didn't know she was married but then we decided to take our relationship to the next level. Puseletso told me she had spoken to her husband and he didn't have a problem with me moving in. I didn't have a problem either, so I moved in. I'm a happy man.
And they lived happily ever after!
LADIES DO YOU THINK IT'S BETTER TO MARRY A SECOND HUSBAND/WIFE RATHER THAN CHEAT? GUYS WHAT IS YOUR SAY ON THIS ?
---
Posted: at 17-03-2015 01:39 PM (7 years ago) | Hero