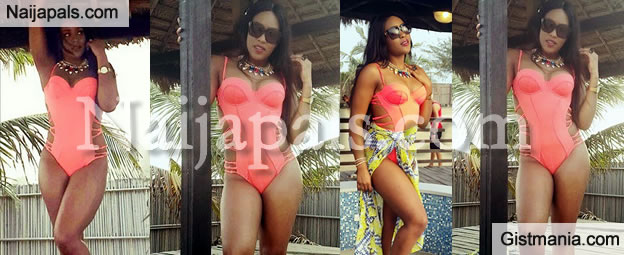 We broke the story of Emma Nyra's exit from Made Men Music Group, home to Iyanya, Baci, Tekno, Selebobo, and DJ Coublon, with executive responsibility shouldered by Ubi Franklin.

According to our findings, Emma left the record label after over 3 three years of engagement, relocating back to the USA, where she schooled.

According to our sources, her decision to quit was fostered by personal issues with Ubi Franklin, and what many do not know is the true reason why she left.

Pulse conducted a thorough investigation through her stay within the record label, and we have documented that below.

The Sweet Beginning

Emma Nyra (real name Emma Chukwugoziam Obi) is a Nigerian singer and songwriter.

Nyra was born on July 18, 1988, in California and raised in Texas. Her father is a pharmacist and her mother has had a home health practice.

When Emma Nyra was six years old, she already liked to sing and wanted to become a singer. She pursued a Bachelor of Science Degree in Health Administration at the Texas Southern University in Houston, Texas, to please her parents and only then Nyra insisted on relocating to Nigeria.


In 2010, Emma Nyra met her manager, Ubi Franklin, during one of her Christmas visits to Nigeria.

In 2011, Ubi Franklin was working with Iyanya, who was just beginning to experience his first taste of success through the hit single 'Kukere'. Iyanya later went on to cement his success with hit singles, 'Flavour', 'Sexy Mama', 'Jombolo' and 'Ur Waist' from his sophomore album 'Iyanya VS Desire'.

With fame came money for Iyanya and also Ubi Franklin, who close friends say had fallen deep in love with Emma Nyra.

Emma, was immediately signed to the newly created MMMG label and had her first feature on Iyanya's hit single 'Ur Waist'. Sources however tell Pulse that the single had controversy in its creation; as Emma Nyra vocals were originally written and voiced by someone else.

Sources says the chorus and original vocals were rendered photographer-turned-singer, Toni Tones but was replaced by Emma Nyra without a notice. The song was released in July 2012, and quickly became a hit, with Emma Nyra starring in it, and scoring her first flirt with popularity. 'Ur Waist' was nominated for 'Best Pop Single' and 'Song of the Year' at The Headies 2013. To this day, 'Ur Waist' is seen in some quarters as Emma's best contribution to music in Nigeria.

Signing To Made Men Music Group

With the financial rewards gotten by Iyanya's music, and deals struck by Ubi Franklin, Ubi now focused on breaking Emma Nyra into the Nigerian music scene just as he had done with Iyanya.

In 2012, Nyra came to Lagos after her manager helped to convince her parents to allow her relocate in search of a thriving music career. Industry insiders say Iyanya was however not in support of the move.

"He had just began to reap financial rewards and did not want to channel his funds to promoting another artiste", one source told Pulse.

Once in Nigeria, work was put into her career with massive funding channelled by Ubi Franklin into her career. High budget videos were shot for her. The first of which is 'Ori Mi Wu', directed by Moe Musa. The song was released in July 2012, with the video released in January 2013.

In 2013, Emma Nyra released three high budget videos; 'Ori Mi Wu' (January), 'Everything I Do' featuring Iyanya (March), 'Kere Shere' (October).



Also in 2013, Iyanya and Emma Nyra set out on US/Canada tour to promote Iyanya's sophomore album, which contained the collaboration, 'Ur Waist'. The tour packaged by Big A Entertainment is regarded as one of the most successful US tours by a Nigerian.



Problems, Problems, Problems

With all of these happening for her, Emma Nyra unfortunately failed to excite a huge number of Nigerian fans. The success gained by Tiwa Savage, Omawumi and Waje, eluded Emma Nyra, and so frustration set in. Which made her begin to search for other options.

Emma's frustration with the state of her career which had failed to skyrocket, made her try out different options. Emma was still in a relationship with Ubi Franklin, but the rumour mill went viral, as unconfirmed sources began to bear stories of a fling with Chocolate City's Ice Prince, and Mavin Records, D'Prince.

Reports have it that Ubi Franklin had once or twice physically assaulted Emma Nyra. This is however unconfirmed as both parties have distanced themselves from such rumours.

The lowest point of their relationship was reached in December 2013, when Emma gave an interview to Channels TV, stating that she had left the label.

"The label, yeah, we are no longer together, nothing happened, I just didn't renew my contract." Emma Nyra disclosed.

Emma also harboured plans to start a movement for emerging female artistes, a movement she dubbed, the 'Girl Power Movement'.

With the news in the open, Emma opened talks with various industry players, expecting people to rally behind her, and support her movement. That support never came, and frustrated further, she relocated back home to Texas, and began a new phase of planning.

Ubi Franklin made the move for reconciliation, which was accepted, and she was brought into the fold, moving back to Nigeria in 2014, to join the creation of the present MMMG label roaster.

Tekno had earlier been signed in October 2013, Selebobo was signed in March 2014, Baci had been a regular with Iyanya, having made his bones as a creative force behind-the-scenes, and in public as a backup singer to Iyanya.

With Emma Nyra's return in 2014, Triple MG set to work on their compilation debut album, with a massive promotional campaign masterminded by Ubi. Emma released the solo single, 'Amigo'.



The debut album entitled 'Evolution' was successfully released in May 2014. Emma Nyra's solo single was well-received, but it wasn't well promoted, and didn't get a video to go with it.

Pseudo – Renaissance

In April 2014, Emma Nyra released a song with Davido titled 'Elele'. The song received good airplay and a video was released in September 2014.

A follow single was released in late 2014 - the Dancehall single 'For My Matter'. A video was also released in December 2014.

More Problems

In November 2014, Beat FM OAP Fade Ogunro, took to Instagram to allegedly vent at Ubi's behaviour (albeit, without directly pointing fingers), insinuating he was still physically abusing Emma Nyra.

She said:

Dear CEO,

I have learnt that In life, people will try and lie about you, bring you down, those that hurt you most are the ones that disguise themselves as friends. There's one particular person in the industry that tries everyday to infiltrate my life and break up my relationship. Jesus will always stop you from hurting me emotionally, physically, mentally. When Jesus says yes, no man can say no! Meanwhile this person stays beating up girls, he stays smacking the girl that is signed to his label, they pretend they are in a loving relationship. Nope, she cheats, he beats her. She has never admitted that she is your girlfriend, she is clearly embarrassed by you. #DumbAss.

Same nigga wants to lie about me, why you so extra? Stay outta my life, reality is im in love and he hates that. Anyone who is any type of happy he wants to bring them down. Go focus on your sad negative life. No matter what, God has blessed me, deal with it. I have a wealthy heart and I'm cute. You just mad that the only girls you can get are my mans leftovers from 5 years ago. You ugly, you heart is ugly, your intentions are ugly. You will end up lonely and still ugly. FOH!
The world will see you for who you really are! #HaterAlert

Sincerely,

The girl who has been in a loving 2 year relationship.

That story put the heat on Ubi Franklin, but he remained quiet, refusing to respond to the allegations.

The Last Straw

Ubi Franklin's engagement to Nollywood actress, Lilian Esoro caught many by surprise. On March 19, 2014, Lilian Esoro finally it the cat out of the bag that she had agreed to get married to Ubi Franklin.


This sparked quite an uproar on social media, with a lot of people sharing polarized opinions about the new development. Emma Nyra didn't join the others in congratulating the couple. She was at the time attending the 2015 SXSW event in Austin, Texas. She is currently still in Houston.

Emma Nyra finally left Made Men Music Group (Triple MG) and possibly Nigeria after over 3 years with the label.

According to reliable sources within the recording house, the singer quit the record label due to personal issues with her boss, Ubi Franklin.

"Emma has left their record label. She not only left, she has relocated back to the USA where she came from. Emma left due to personal reasons with Ubi Franklin", a source told Pulse.

Emma Nyra has been promoting herself singlehandedly since the beginning of March 2015. She has also refused to pick up calls or respond to messages from her (ex)label mates and managers.

"Emma Nyra is not picking her calls, neither is she in communication with any of her friends and colleagues." the source further revealed.

Her booking e-mail which used to read [email protected] has now been changed to her personal email, [email protected] and she has been in the U.S for more than 4 weeks.


Also, her erstwhile title, "First Lady Triple MG" is gone. She now describes herself as "International Recording Artiste, Nigerian Entertainment Award Winner" and her booking phone number has been changed to an US number.


The rest of the TripleMG crew have been carrying about their duties, with no mention of her. Iyanya, Tekno, Selebobo, and Baci, have recorded songs with DJ Coublon, and Mystro, with a video shoot already done without the diva. Triple MG will be releasing a new song titled 'Yudala', in the coming weeks.
Problem with this article? Please contact us