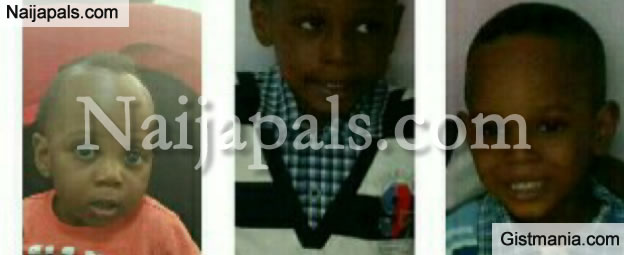 The three children who were declared missing by their parents on April 7, allegedly abducted by a nanny who was employed just 24 hours earlier, have been found in Shagamu, a town in Ogun State. The children, Demola, 6-years-old, Adedamola, 4-years and 11-months old Aderomola, were reported to have gone missing when the nanny, Mary Akinloye, a 23-year-old indigene of Ibadan, Oyo State, who was contracted via an online sales and classified portal, OLX, made away with them.According to the mother of the children, Adebisi, she and her husband had put up a request on the portal requesting for a nanny when the maid who was taking care of the kids suddenly stopped coming to work.
The mother had lamented thus:
"

Quote

We had someone who was taking care of the kids before now. But the woman did not show up on Saturday and Sunday and we urgently needed someone to assist because we were going to resume work on Monday.
We were disturbed and that was why I posted the information on OLX. She (Akinloye) called us and said she was interested. She said she was 23 years.
I agreed to employ her in the interim because I really did not like the fact that she was young. She agreed to collect between N10, 000 to N15,000 even though our former nanny collected N25,000.
I left her at home this morning (Wednesday) around 7.30am. It was around 1pm that my eldest son called me and said she had taken his siblings away.
He said she told him they were going out to buy some things. She took the 11 months on her back and held the others by the hand. She has since not returned."
The father, Leke, had also said:
"The girl gave us the contacts of relatives and we spoke with two people she introduced to us as her brother and sister. They confirmed that they were her relatives. They gave us a vague description of where they lived in Ikorodu. We agreed to do proper documentation this week.
It was in less than 24 hours that she went away with the kids. She never gave us an idea that she was on an evil mission. Her spoken English was fluent. She said she had a National Diploma and just wanted to make some money so she could return to school.

"
But glory to God, the family can now heave a sigh of relieve as the kids have been found alive, hale and hearty.
Posted: at 9-04-2015 11:26 AM (6 years ago) | Hero