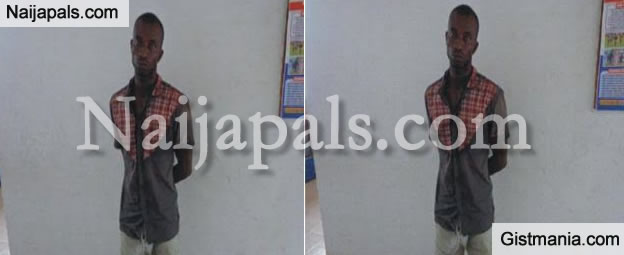 Officers of the Abia state Police command have arrested a 36 year old commercial taxi driver, John Madu (pictured above) for allegedly molesting a female passenger.

According to The Nation, the unidentified victim was returning from Lagos to Obehie community in Abia state where her parents reside in John's taxi when the incident happened. He reportedly dragged the lady out of his car in a lonely road and pounced on her.
Her pleas that she was a virgin fell on deaf ears as the suspect forced himself on her and left her on the road. Luck however ran out on him when the victim notified a team on police who were patrolling the area.

Speaking on his arrested, the State Police Public Relations Officer, DSP Ezekiel Udeviotu Onyeke said
"The girl whose name we can't give out to the public boarded car to Owerri, Imo State where she picked another vehicle to Aba, Abia State and on getting to Aba, it was already late. But being determined to go home and meet her parents who are staying around Obehie, she boarded a cab from Flyover (a popular bus stop in Aba) to Obehie. She was the only passenger inside the vehicle. The driver told the lady that he had ran out of fuel, but the lady told him not to stop his vehicle until they get to a place where they can sight people's house. While they were still driving, the driver asked the girl which church she attends. The lady told him and the driver told the lady that he is a member of the same church. That made the lady felt at home and while they were still driving, he asked the lady if she will marry him, but the girl politely told him that marriage are not contracted on the road.

That if he is serious with his proposal, he should come to see her people with his people as custom demands. It was at that point that the driver stopped on the road and the lady having sensed danger, opened the door and took to her heels. She was swiftly pursued by the driver who caught up with her and then forced himself on the lady even when she told him that he was a virgin and had vowed that it will be her husband that will break her virginity.

The man after molesting her slept off and while he was sleeping, the lady for fear of being raped the second time, ran out of the car to hide a bush and when the police team Operation Safer Highway saw the car and was asking the driver why he parked there, the lady having noticed their presence told her story and the boy was arrested by the police team."he said.


---
For more scintillating and juicy stories, follow the official Naijapals accounts On Twitter - @Naijapals and Facebook - www.facebook.com/naijapals
---