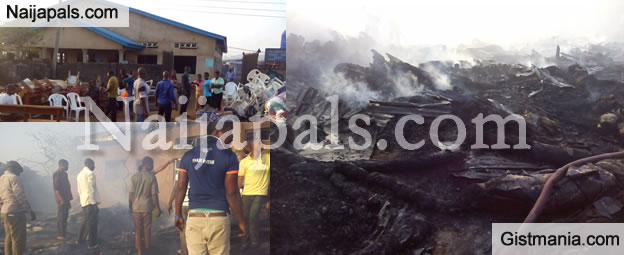 Property worth millions of naira got destroyed yesterday July 25, after the popular sawmill at Ibereko in Badagry, Lagos was engulfed in fire. Although no life was lost in the incident, the inferno also razed parts of the St. Anthony Catholic church beside the plank market.

As at the time our reporter got to the scene, Fire Fighters from the Lagos State Fire Service, Badagry Station, were seen struggling to put out the raging flames as it continued to spread.


A resident in the area who simply gave his name as Hamed said: "We just discovered smoke was coming out of some of the planks and before we knew it, 'Thinner' which is a chemical we use to make paint very thick exploded and the whole area went up in flames".

However, members of St. Anthony Catholic Church scampered for safety as some groups were said to be having rehearsals as at that time. They immediately evacuated the church premises as neighbours try as much as possible to help them remove valuables, as the fire continued to rage.


The religious facility was immediately emptied as the seats, pulpit-stand, public address system e.t.c were taken outside the premises.

By the time the fire was totally put out at about 6:30pm, valuables running into millions of Naira had 'gone'. Some of the shop owners were seen wailing and lamenting the incident.
Ibereko is a place with a very small population in Badagry, Lagos.