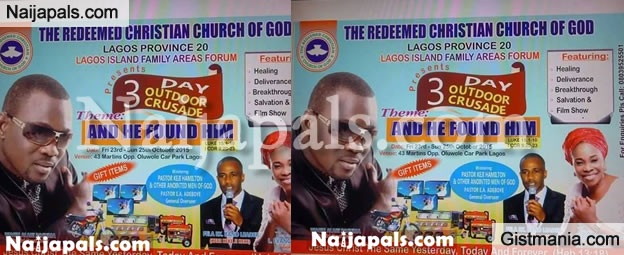 The Redeemed Christian Church of God (RCCG) through its provincial headquarters on Lagos Island has cancelled a three-day outdoor crusade of one its parishes following the invitation of secular Fuji star Pasuma Wonder as a guest artist for the crusade.
Pasuma's picture appeared on the handbill advert alongside the gospel singer Tope Alabi and a former band leader of the late Fela Anikulapo's Egypt 80 band, Kereke Jike.
He also said that as a result the programme has been cancelled and the pastor in charge of the church along with the organizing committee has also been suspended as they now await sanction for dragging the name of the church into the mud.
Sources say it was a fan of the Fuji lord who worked at the press where the posters and fliers were being printed who leaked the artwork of the posters and fliers of the event.
Problem with this article? Please contact us
---