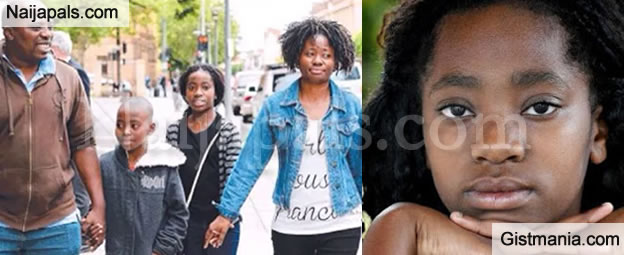 A Nigerian family Tony, Favour, Crystal and Jecinta Iluno are currently facing deportation from Australia unless their daughter, Crystal's visa application succeeds. The family says terrible fate awaits them in Nigeria.
Her father, Tony, told The Advertiser that the stakes were especially high for Crystal because she would be forced to undergo female genital mutilation upon their return.


Quote

"She is a child, she is a minor, and the psychological trauma she would go through is what we are concerned about,"

he said.


Quote

"If she is forced to go to Nigeria it is going to happen, and she doesn't even know what it means.
Tony said: "Every midnight she wakes saying 'Daddy, I can't sleep, I can't stop worrying about what's going to happen to me'."


For this reason, Crystal is asking a Federal Court to review the Immigration Department's refusal to grant her a visa, which would in turn allow the entire family to stay in Adelaide. Mr Iluno and his family – wife Jecinta, Crystal, 10 and Favour, 7 – went to Adelaide in 2011 after Tony obtained his student visa.


In August, the Immigration Department declined to exempt them from having to return to Nigeria at the expiration of Iluno's visa. An application on behalf of Crystal was also refused. Mr Iluno says he was a member of the Movement for Actualisation of the Sovereign State of Biafra, a secessionist group that is persecuted in Nigeria.
Tony also said people dissappear mysteriously from their hotel rooms."Even now, some people that have come back from abroad and their families are kidnapped from their hotel rooms ... they just disappear, all the children, all the parents," he said.

They fear that, if deported, they will be kidnapped and persecuted, and Crystal forced to undergo genital mutilation. Their current bridging visa expires on Tuesday. Judge Stuart Brown will determine their fate soon
---