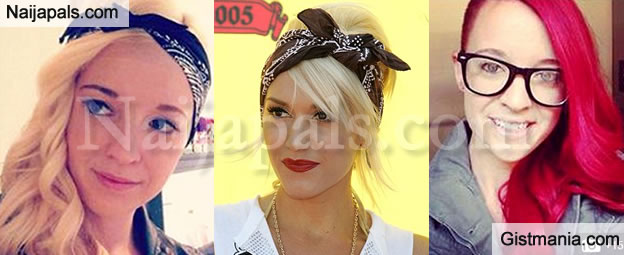 Social media photographs posted by Mindy Mann, the nanny revealed to have had a three-year affair with Bush Rocker Gavin Rossdale, wearing a bandana around her platinum hair...just like Gwen
That's someone you give money too just for her to have a life. Photographs posted it by Mindy Mann, a nanny employed by super star Gwen Stefani, has revealed a three-year affair with Bush Rocker Gavin Rossdale, Gwen's husband. In some of the photos, the 20-something posed in a series of creepy poses strikingly similar to her superstar boss Gwen Stefani.
Wearing lookalike black rimmed glasses, a bandana in her platinum hair and striking a pose with seven-year-old Zuma, the Australian caretaker of the now ex-couple's three children matched up to photos of her superstar boss.
The new issue of Us Weekly claims the Bush rocker initially denied having an affair with the child minder after another one of their nannies supposedly discovered messages and Nood photos on the family's iPad and informed Gwen.
Mann, who began working for rock Power Couple as a fill-in and then became full-time, began dressing in a similar way to Gwen.
It didn't end there.
'If Gwen would eat something or do a workout or get a new handbag, Mindy would do the same thing, ' a source claimed to US. 'Gwen thought it was weird.
Gwen Stefani recently revealed her split from husband of 13 years Gavin Rossdale was completely 'unexpected'.
It has now been alleged that Gavin was cheating on the No Doubt singer for three years with their family nanny Mindy Mann, who was charged with looking after their three sons Kingston, nine, Zuma, seven, and Apollo, 20 months.
Gavin, 50, is said to have initially brushed the messages off as 'flirtation', before allegedly confessing to adultery months later, the magazine reports. It 'completely devastated her,' a source told Us. 'She was mortified, livid, and embarrassed.'
The supposed liaison is alleged to have lasted for more than three years, including the period when Gwen was pregnant with their youngest child Apollo.

---
Posted: at 12-11-2015 11:54 AM (7 years ago) | Hero