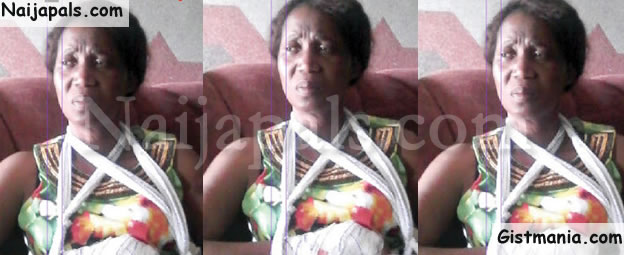 It's a miracle. Such a pathetic story. I hope Wale is never released on bail again. Such a man shouldn't live with humans.

The police in Ekiti State have arrested three persons in connection with a robbery attack on a retired United States Naval officer, Mrs. Titilope Ayeni-Are.

The woman had just arrived Nigeria from the US after being away for over 12 years. She was due to resume her new role as a lecturer in one of the tertiary institutions in the state when the incident occurred.

The first robbery attack occurred on Sunday, August 9 when burglars invaded her residence at Charity Street, Adehun, Ado Ekiti, the state capital, while she was away in church between 9.15 am and 1.45pm. Before her arrival, valuable items including three laptops, two DVD players, three mobile phones and a modem had been stolen.

Policemen recovered a bunch of keys with which the robbers gained access into the house.

Three days later, when she visited the Ado Ekiti office of Etisalat to retrieve her stolen line, she was told the line was still being used, which prompted her request for the call log.

Investigation revealed that the most frequent caller of the line was one Funke Adenowo, a cleaner at First Bank, Opopogboro Branch, suspected to be the girlfriend of one of the burglars.

Following investigations, police later arrested two brothers, Bode and Wale Fakorede as well as one Segun, who came from Ibadan to buy two of the three stolen laptops.

Wale and Bode were granted bail after they were arraigned before an Ado Ekiti Magistrate's Court.

After their bail, Wale reportedly led another robbery attack on the house on November 24, where he attacked Ayeni-Are with a machete. The suspect was said to have attempted to rape her also before police intervention.

She said, "My five-year-old son was with me at the time. Wale, who led the other gang members I could not identify, told me to look at him very well. He said he planned to kill me. I was left in the pool of my blood, after which he went to ransack the bedrooms.

"He went back to switch on the generator and asked about where I kept money, my ATM card and PIN number. He asked about my husband and I told him that he was in America. He asked from my son where his father was and my son told him that his dad is in America.

"He asked for my car keys, particularly that of a Pathfinder SUV, I told him that I didn't have any such vehicle. He asked about the three laptops, which were earlier stolen, I replied that I had given them out. He then removed my necklace.

"He asked me if I knew where they sent him after the first attack, I told him that it was the court that sent him there. He said that throughout the time, he never had the opportunity of enjoying sex and that it was now an opportunity to do it with me.

"The other accomplice, whom he came with, kicked against what he intended to do but he threatened him. He said he would do it right in front of my son for him (my son) to see the action.

"He ordered me to go back to the bedroom and unzipped his trousers and it was in that process that my phone rang. He dragged me out of the house to the back door and dragged me to a well. He attempted to throw me inside the well.

"When I fell off the well, he pinned me to the wall and in the course of the struggle, a rope and the cloth with which he gagged me removed and I screamed 'O ti pa mi o, oti pa mi o' (He has killed me, he has killed me).

"I ran towards the gate but unknown to me, my neighbours had already called the police."

The suspects were later arrested.

When contacted, the Police Public Relations Officer in the state, Alberto Adeyemi, said the Department of Criminal Investigations in the state, had swung into action and started an investigation into the case.

---
For more scintillating and juicy stories, follow the official Naijapals accounts On Twitter - https://twitter.com/Naijapals and Facebook - www.facebook.com/naijapals
---