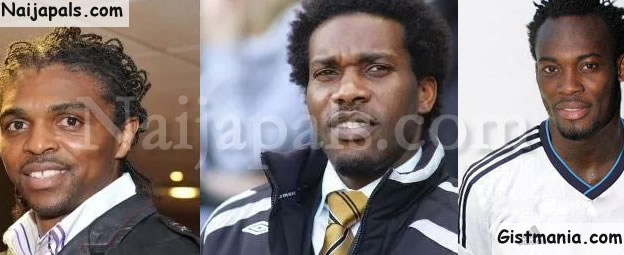 Nigeria's Mikel Obi alongside retired players Jay Jay Okocha and Kanu Nwankwo are among the top 10 highest earning African players of all time according to a study conducted & published by French publication, Footendirect. With a cumulative take-home of $50 million, John Mikel Obi is now the best paid among the current generation of Nigerian players.

According to Footendirect, Mikel who earns about £75,000 per week at Chelsea has a total earnings estimate of $50m while Kanu Nwankwo and Jay Jay Okocha who have since retired made $100m and $150m respectively from their career.

See the full list below............

1. Samuel Eto'o Antalyaspor : 202 millions de dollars



Samuel Eto'o Fils (born 10 March 1981) is a Cameroonian professional footballer who plays as a striker for Turkish club Antalyaspor – he is also currently their interim manager. He is the most decorated African player of all time, having won the African Player of the Year award a record four times: in 2003, 2004, 2005, and 2010. He was third in the FIFA World Player of the Year award in 2005.

Eto'o scored over 100 goals in five seasons with Barcelona, and is also the record holder in number of appearances by an African player in La Liga.[6] In 2010, he became the first player to win two European continental trebles following his back-to-back achievements with Barcelona and Inter. He is the second player in history to score in two UEFA Champions League finals and the fourth player, after Marcel Desailly, Paulo Sousa, and Gerard Piqué, to have won the trophy two years in a row with different teams.

As a member of the Cameroon national team, Eto'o was a part of the squad that won the 2000 Olympic tournament. He has also participated in four World Cups and six Africa Cup of Nations (being champion twice) and is the all-time leading scorer in the history of the Africa Cup of Nations, with 18 goals. He is also Cameroon's all-time leading scorer and third most capped player, with 56 goals from 118 caps. He announced his retirement from international football on 27 August 2014. In 2015 he received the Golden Foot Award.

2. Yaya Touré/Manchester City: 170 millions de dollars



Gnégnéri Yaya Touré (born 13 May 1983), known as Yaya Touré, is an Ivorian professional footballer who plays as a central midfielder for Premier League club Manchester City and the Ivory Coast national team for whom he is the captain.

Touré aspired to be a striker during his youth[4] and has played centre back, including for FC Barcelona in the 2009 UEFA Champions League Final,[5] however he has spent the majority of his career as a box-to-box midfielder for club and country, where he has been regarded as one of the world's best players.[6] He was voted African Footballer of the Year for 2011, 2012, 2013 and 2014.

Touré began his playing career at Ivorian club ASEC Mimosas, where he made his debut aged 18. His performances attracted attention from Europe. Touré had stints with Beveren, Metalurh Donetsk, Olympiacos, and AS Monaco before moving to Barcelona in 2007. He played over 100 matches for the club and was part of the historic 2009 Barcelona side that won six trophies in a calendar year. In 2010 Touré moved to Premier League club Manchester City where he scored a number of key goals for the Citizens – most notably the only goals in the 2011 FA Cup semi-final and final. He also helped City earn its first league title in 44 years.

Touré has a distinguished international career with over 100 caps for the Ivory Coast, representing the team at the 2006, 2010 and 2014 FIFA World Cup tournaments. He also represented Ivory Coast in six Africa Cup of Nations in 2006, 2008, 2010, 2012, 2013 and 2015, helping them finish runner-up in 2006 and 2012, while captaining them to victory in 2015. He is the younger brother of his Ivory Coast teammate Kolo Touré. They played together at Manchester City for three years, before Kolo was transferred to Liverpool in 2013.

3. Didier Drogba (Montreal) : 155 millions de dollars



Didier Yves Drogba Tébily (born 11 March 1978) is an Ivorian professional footballer who plays as a striker for Canadian MLS club Montreal Impact. He is the all-time top scorer and former captain of the Ivory Coast national team.

He is best known for his career at Chelsea, for whom he has scored more goals than any other foreign player and is currently the club's fourth highest goal scorer of all time. He has been named African Footballer of the Year twice, winning the accolade in 2006 and 2009.

An Ivory Coast international between 2002 and 2014, Drogba captained the national team from 2006 until his retirement and is the nation's all-time top goalscorer with 65 goals from 104 appearances. He led the Ivory Coast to the 2006 FIFA World Cup, their first appearance in the tournament, and also scored their first goal. He later captained the Ivory Coast at the 2010 and 2014 FIFA World Cups. He was part of the Ivory Coast teams that reached the final of the Africa Cup of Nations in 2006 and 2012, but were beaten on penalties on both occasions. On 8 August 2014, he announced his retirement from international football.



4. Jay-Jay Okocha: 150 millions de dollars





Augustine Azuka "Jay-Jay" Okocha (born 14 August 1973) is a Nigerian former professional footballer who played as an attacking midfielder. A quick and skilful playmaker, who is widely regarded as the best Nigerian players of his generation and one of the greatest African players of all time, Okocha was known for his pace on the ball, technique, creativity, and dribbling skills, as well as his use of feints, in particular the stepover.

Due to his skill, he was described as being 'so good that they named him twice' (a line immortalised in a terrace chant while Okocha played for Bolton Wanderers). He is a dual Nigerian-Turkish citizen, having acquired Turkish citizenship as "Muhammet Yavuz" while playing for Süper Lig team Fenerbahçe.

5. Nwankwo Kanu: 100 millions de dollars



Nwankwo Kanu, OON (born 1 August 1976), or simply Kanu, is a retired Nigerian footballer who played as a striker. He was a member of and later captained the Nigerian national team for 16 years from 1994 until 2010. Kanu is a member of the Igbo ethnic group; his name, Nwankwo, means Child born on Nkwo market day in the Igbo language.

Kanu has won a UEFA Champions League medal, a UEFA Cup medal, three FA Cup Winners Medals and two African Player of the Year awards amongst others. He is also one of few players to have won the Premier League, FA Cup, Champions League, UEFA Cup and an Olympic Gold Medal. He made the third-most substitute appearances in Premier League history, appearing from the bench 118 times. He is also a UNICEF ambassador.

6. Michaël Essien/Panathinaïkos: 70 millions de dollars



Michael Kojo Essien (born 3 December 1982) is a Ghanaian footballer who plays for Panathinaikos and the Ghana national team. He is a midfielder who has often been touted as a box-to-box midfielder for his ability to exert energy in supporting offensive and defensive play and for his tough tackling style which has earned him the nickname "The Bison".[2] Essien can also play as a defender, both on the right of defence and in the centre.

Essien started his career playing for Liberty Professionals in his home country. In 2000, he moved to France joining Bastia. Essien spent three seasons at the club appearing in over 60 matches before joining league champions Olympique Lyonnais in 2003. At Lyon, Essien won back-to-back league titles in 2003–04 and 2004–05 and also played in the UEFA Champions League for the first time. During his five-year stint in France, he acquired French citizenship. In 2005, Essien signed with Chelsea for a fee of £24.4 million and, at the time of his signing, was the most expensive African footballer in history.[3] At Chelsea, Essien helped the club win the Premier League in 2006 and 2010, as well as three FA Cups and one Football League Cup. In 2008, he appeared in the UEFA Champions League Final. He has won the Chelsea Goal of the season award twice, in the 2006–07 and 2008–09 seasons.

7. Emmanuel Adebayor (Libre) : 57 millions de dollars



Sheyi Emmanuel Adebayor (born 26 February 1984) is a Togolese professional footballer who plays as a forward. He previously played for English clubs Arsenal, Manchester City and Tottenham Hotspur, as well as Metz, Monaco and Real Madrid. He was voted African Footballer of the Year for 2008.

Adebayor represented the Togo national team at the 2006 FIFA World Cup in Germany, the country's début, and to date only, appearance at the World Cup. In January 2010, Adebayor was one of the players involved when the Togo team's bus came under gunfire on the way to the 2010 Africa Cup of Nations in Angola, after which he retired from national team duty. In 2013 he returned to the Togo team for the 2013 African Cup of Nations in South Africa, where he helped them to qualify for the quarterfinals. He is currently Togo's all-time top goalscorer with 29 goals.

A towering striker, Adebayor is described as being "tall, skilful, strong in the air and with the ability to score and create

8. Obi Mikel/Chelsea : 50 millions de dollars



John Michael Nchekwube Obinna (born 22 April 1987), known as John Obi Mikel, John Mikel Obi or Mikel John Obi, is a Nigerian professional footballer who plays as a midfielder for English club Chelsea and the Nigeria national team.

9. Kolo Touré (Liverpool) : 43 millions de dollars



Kolo Abib Touré (born 19 March 1981) is an Ivorian professional footballer who plays for English club Liverpool as a defender.

Beginning his career at ASEC Mimosas, Touré moved to Arsenal in 2002, where he made 326 appearances for the club and was a member of the famous 03-04 'invincibles' side. In 2009 he joined his younger brother Yaya Touré at Manchester City where they played together for three years, helping City earn its first league title in 44 years. In 2013 Touré transferred to Liverpool. Toure is one of the six players who have won Premier League with two different clubs, having won it with Manchester City and Arsenal.

Touré is the second-most capped player with 118 appearances for the Ivory Coast. He represented the team at the 2006, 2010 and 2014 FIFA World Cup tournaments. Touré also represented the Ivory Coast at seven Africa Cup of Nations in 2002, 2006, 2008, 2010, 2012, 2013 and 2015, helping them finish runner-up in 2006 and 2012, while winning in 2015.

10. Sulley Muntari (Al-Ittihad): 40 millions de dollars



Suleyman Ali "Sulley" Muntari (born 27 August 1984) is a Ghanaian professional footballer who plays as a central midfielder for Saudi Arabian club Ittihad FC.

During his time at Internazionale, he helped the team win the Champions League in 2009–10 and the Serie A title in 2008–09 and 2009–10. He was also part of the Portsmouth team that won the FA Cup in 2007–08. A full international for Ghana since 2002, he has earned over 80 caps for the national team and has been selected for two Africa Cup of Nations tournaments and all three of their World Cups.

He is the elder brother of Steaua Bucharest player Sulley Muniru.
---