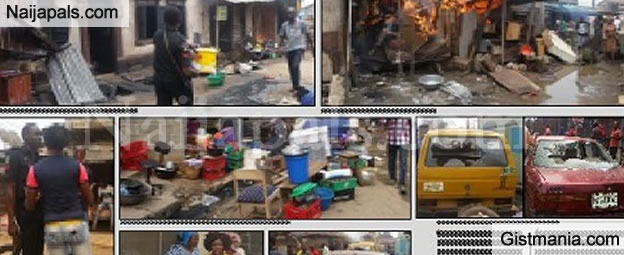 Suspected rival cultists went wild in Onipanu, Lagos yesterday, setting six shops and a house on fire. The Nation reports that they also vandalised seven vehicles parked on Shosanya Street and unleashed mayhem on the area for over two hours.
Occupants of the house wailed as they watched their properties being razed by fire. The incident occurred at 12:30pm when many had gone to work. Those around when the gang arrived were allegedly prevented from leaving the building, but they took the emergency exit. None of them could, however, salvage their properties.
The hoodlums, numbering about 30, were said to be armed with guns, cutlasses and knives. According to The Nation, the suspected Aiye confraternity members stormed the house in search of a member of a rival gang, Alora group, whose name was given as Idris (aka Lizarazu).Idris' gang, it was learnt, had earlier kidnapped a member of the Aiye group, identified as Sodiq, earlier in the day and attempted to kill him at the toll gate linking Kayode and Ogunmokun streets.Sodiq, it was gathered, was stabbed on the head and chest with sharp objects before his gang went to rescue him.


His colleagues mobilised for a reprisal, combing the area for members of the rival gang. When they learnt the Alora group members had fled, the Aiye gang moved to House 4 on Shosanya Street, said to belong to Idris' late father, and torched it. They allegedly fired several shots at the building before setting it on fire.
It was gathered that Idris had earlier gone to the house and warned the occupants to pick "anything valuable to them" and leave. A tailor whose shop was torched said she almost threw her baby into a freezer as guns boomed. The tailor, who declined to give her name, said: "I almost fainted in my shop when the boys arrived in their numbers. I was discussing with a customer and suddenly, I saw people running in different directions. I quickly carried my baby and hid behind my fridge. They were shooting and throwing bottles.
"When they got here, they shot in different direction. I wanted to lock my baby in the freezer, but I did not know what stopped me. They locked the front door and splashed petrol on the house. They threatened to shoot anyone, who attempted to run out before setting the house on fire. They waited for another 30 minutes to ensure the house got burnt. I ran out with my baby when they left the street to other streets."
While the house was on fire, Aiye group members smashed the windscreens of vehicles parked on the street. They also threatened to set fire on the adjacent three-storey building, where another member of the rival group, resides. As they left the area, they shot sporadically and threw bottles at houses. Residents went into hiding to escape being hit by stray bullets. They came out of hiding following the arrival of a combined team of riot policemen and anti-robbery squad from Ilupeju Police Division and Area D in Mushin. A resident, who gave her name as Mojisola, said it was the second time the house was attacked, noting that a gang had attempted to kill Idris' mother last year when they were looking for him. "I was one of the people, who told Idris' mother to leave this area because of her son's involvement in cult activities," Mojisola said. According to The Nation, the gang left Shosanya Street, passing through four other streets without being accosted by the police. They were said to have converged on Ajisegiri Street, before dispersing via Shyllon Street and Railway line. The residents accused police of not responding to their distress call on time. Wole Alimi, a witness, said: "I personally called the Ilupeju Divisional Police Officer (DPO) on telephone to give him the direction of movement of the cultists after they left Shosanya Street and he told me his officers were moving close to them. "I was shocked when I saw the policemen driving to the Shosanya Street where the cultists had left several minutes after I called the DPO. The cult gang terrorised us for more than two hours and we did not see any policeman while they were here. What kind of country is this?" Police spokesperson Dolapo Badmos, a Superintendent of Police (SP), said: "There is no gang war but an incident of arson was ascertained. There is no cause for alarm, because police have been deployed to the area."
---
Posted: at 21-01-2016 03:37 PM (5 years ago) | Gistmaniac