These are unconfirmed reports but they are coming from some credible sources that the fairy tale marriage of 63 years old Adams Oshiomhole might be coming to an end very very soon!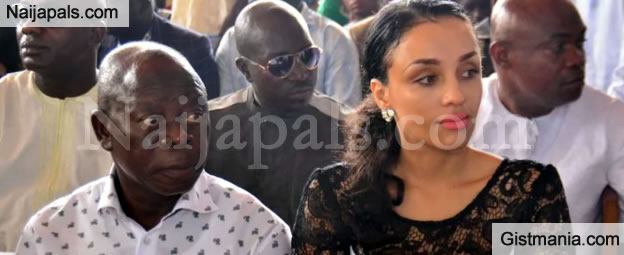 Quote
Mrs Iara is filing for divorce on claims that her husband, Adams Oshiomhole, is fetish and diabolic. Iara was alleged to have also accused her husband of being responsible for the death of his former wife Mrs Clara Oshiomhle who died on December 7, 2010, at the Abuja clinic, Maitama, after a protracted battle with Bosom cancer.

For many, if it was not because of money—there was no reason why Lara and Adams should have been an item because they seem to belong to different jungles.

The couple earned the name 'beauty and the beast' from social media commenters who had a lot to say about their marriage about 9 months ago.

On 14 April, 2015, the then 63 year old Nigerian governor married his stunning bride, the Cape Verdean model Lara Fortes at every elaborate and expensive wedding.

The wedding was attending by anybody who's worth anything in Nigerian politics, including president General Buhari himself.

Nevertheless, the pictures from the ceremony told a story, which left many wondering. What could have motivated this marriage? Marriage or Love?

If indeed the divorce is true, then it seems our question at the time has been duly answered.
---