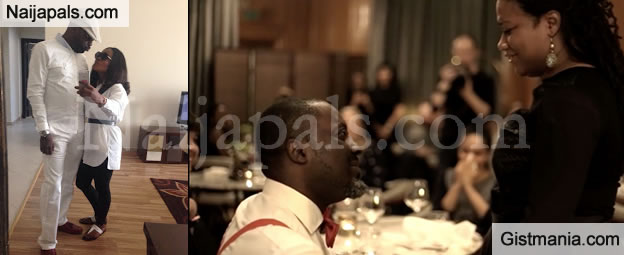 Two days ago, a Nigerian man Oyinlola Famodun who proposed to his girlfriend of many years, Yemisi. The article received a lot of reactions from people who were moved by how Oyinlola staged the proposal.

But, Oyinlola has been accused of being a fraud who is allegedly dating two sisters – Yemisi and Sola. According to the story published on Stella Dimoko today, Oyinlola has been dating the two sisters for years now. The second sister, Sola, is allegedly pregnant with his child, and had just returned from Dubai with Oyin and his mother before he proposed marriage to Yemisi.

Also, in December, Oyinlola and Sola spent the holidays in Rome, and the duo have saved up money to buy a home in Lekki, while saving up a mortgage deposit in the UK.

"Oyinlola picked [Sola] up from the London City airport this morning," the narrator says, "This guy has to be exposed! Both ladies deserve to know what kind of man he is. He is a liar and a thief as far as I know. I have been hearing of other escapades of his with several women. Enough of men playing with women's emotions. This can lead to another stabbing or murder like the story of Yewande few days ago".



Oyinlola proposes to Yemisi

See photos of Sola and Oyinlola:


Oyinlola, his mum and Sola in Dubai
Sola and Oyinlola


Still waiting for Oyinlola to react on this allegation.
Posted: at 7-02-2016 08:21 PM (4 years ago) | Gistmaniac