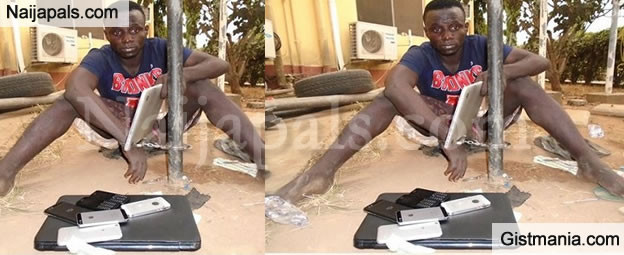 A 20-year-old suspected burglar, Joseph David, yesterday told officials of the Rapid Response Squad (RRS) in Lagos that he paid N240,000 monthly to service his hotel bills.
According to David, who hails from Ekpoma, Edo State, pays N8,000 daily to sleep in the hotel after robbing residents of their belongings, according to the Reporters
The suspect was arrested at Ikeja about 4:40a.m. after he had successfully burgled two flats on Gbajobi Street, Balogun, Ikeja, where he stole three laptops and five mobile phones.
He said that he had been lodging in hotels because he could not live in his parents' house because, according to him, they live in a poor environment. It was gathered that David was on his way to the hotel (name withheld) at Dopemu area, where he had been lodging for over one month when he was intercepted by the police. Investigations by the RRS, which were later confirmed by the suspect and some of his victims, showed that there have been repeated cases of breaking in around Gbajobi Close, Balogun, Ikeja.

The residents around have reportedly lost valuables and cash to burglars. Confessing his many 'sins' at the RRS headquarters, David said: "I was returning to the hotel when I was accosted on Awolowo Way by RRS operatives and they stopped to check my bag.


Quote

"They found one Mac laptop, two HP laptops, two iPhone 5; one blackberry classic and two Nokia Touch phones.
"The house I broke into is a two-storey building behind Jabita Hotel at Balogun, Ikeja. I scaled the fence around 3a.m. and I finished the operation around 4a.m.
"I have broken into some other houses in that area before, where I stole handsets and laptops. I am into 'yahoo yahoo' but money has not been forthcoming like before. I could barely make N100,000 and N50,000 like before.
"That is why I used break in and steal to augment my earning. "I stay in the hotel with my girlfriend and a couple of friends come around. Benjamin is the only buyer that I have. I have been an embarrassment to my parents."


His buyer, Benjamin Odinaka, 18, was a phone repairer at Computer Village, Ikeja.


Quote

"I buy phones and laptops from him. I used to visit him in whatever hotel he lodged in to buy the stolen items,"

Odinaka said.
Published at:
11:54 AM, 8/02/2016 (3 years ago)
Author:

CLARA JANCITA
Problem with this article? Please email reporter[at]naijapals[dot]com or visit our contact page
---