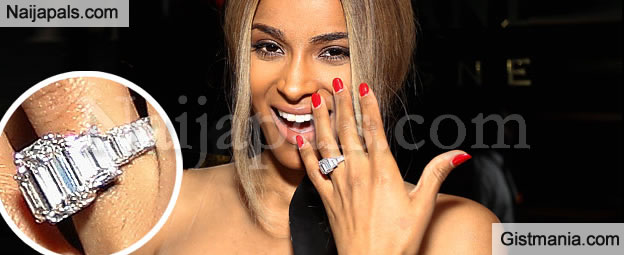 Russell Wilson proposed to Ciara with a massive diamond ring that's worth an estimated $2 million dollars! Check out the bling, guys.Ciara first showed off her massive rock in a video announcement she posted on Instagram on March 11. In it, you can see she's extremely happy to be engaged to the Seattle Seahawks player. The pair have been dating since around April last year. They decided to remain celibate during their courtship,
abstaining from sex for religious reasons.



Ciara's soon-to-be husband popped the question on the beach with a bottle of champagne and shared the moment with his fans on Instagram. He wrote:



"She said Yes!!! Since Day 1 I knew you were the one. No Greater feeling…"
It's the same video Ciara posted, but she captioned hers with:
"God Is So Good! I'm So Grateful For You @DangRussWilson. You Are Truly Heaven Sent, and I'm Looking Forward To Spending Forever With You."
What do you think?

---