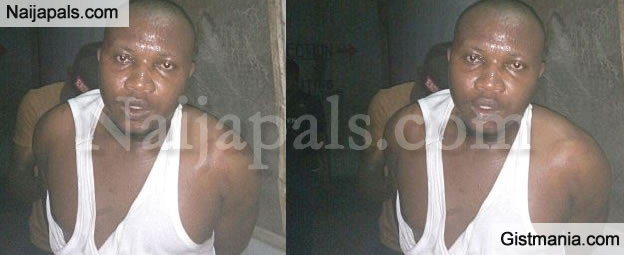 Six years after 9-year-old Aminat Lateef, was gruesomely murdered by a gang of hoodlums, at Tiaminu Street, off Ereko, in Idi-Oro area of Mushin, Lagos State, succour seems to have come the way of the family, as operatives at the D9 Section of the State Criminal Investigation Department (SCID), Panti, Yaba, during the week, apprehended a leader of the gang, Wasiu Akinade, a.k.a. Oloriesho.




Oloriesho The suspect was arrested last Tuesday, when the SCID operatives trailed him to his hideout at Tollgate area of Mushin. It was gathered that a shootout ensued between the operatives and some hoodlums who attempted to prevent the police from arresting the suspect.

Police sources disclosed that Oloriesho has been on the police wanted list for a long time following several gang-related killings and other violent crimes around Mushin and its environ for a long time. A source at the SCID, who spoke with Saturday Vanguard on the condition of anonymity, stated that since 2009, Oloriesho has it signatures in almost all gang-related killings within Mushin, Fadeyi, Shomolu, Bariga and Ilupeju areas of Lagos State.





Aminat Lateef



The source explained that Oloriesho and his gang were recruited in 2009 by a faction of National Union of Road Transport Workers, NURTW, who were locked in a battle of supremacy to wage a bloody war against their opponents. The police source highlighted that Oloriesho and his gang carried out several killings around Tollgate, Idi-Oro, New Balogun, Ogunjobi and Railway areas of Mushin before his arrest. The source added that five members of his gang were arrested by the SCID operatives in January 2016 and an AK47 belonging to the police which was snatched from a policeman murdered at Daleko area of Isolo, Lagos, was recovered from the suspects and the suspects provided intelligence that aided the police in apprehending Oloriesho.


According to the source, Oloriesho and his gang were alleged to have taken part in the killing of the nephew of former Inspector General of Police, Sunday Ehindero, Niyi, in 2012.


It was alleged that Oloriesho and his boys attacked some residents of Bada Street, who weren't loyal to them and they had a clash with some soldiers who were responding to a distress call within the area. "Oloriesho has been on our file for a long time and we have been working very hard to arrest him but we made our first breakthrough last January when we apprehended five members of his gang and they gave us information on how to apprehend him and since we made that arrest, Mushin has been relatively peaceful.


There have been no news of violent clashes or killings within that area and to make sure we achieve a lasting result, we went all out for Oloriesho because he is the leader of the gang. Before his arrest, we had got several information about him, detailing how he led his gang to carry out several killings against persons that are believed to be his opponents. They have also killed innocent people in the process.

"One of such killings was in 2011, a few months after they killed 9-year-old Aminat. They also attacked and killed one Akeem Adeleye, alias Chiroke. He was attacked close to his house in Idi-Oro and killed. One year after, while his friends were observing his remembrance, Oloriesho and his boys stormed the place, opened fire into the crowd and had a shootout with some soldiers who were around that area. At the end, they killed one Niyi Ehidero, who is a nephew to the former IGP.

In 2013, we had report that he killed one Morufu Bakare at Olosha Bus stop in Mushin. He was reported to have shot Bakare on the face. "In 2014, we received reports that he carried out two killings; one in January, while the other in December. In January 2014, we learnt that he led his boys and they shot one Segun Oladunjoye to death around Toll gate area Mushin. We were informed that Segun was formerly part of his gang and he switched camp after he was released from prison. We were told that Oloriesho killed him because he felt Segun betrayed him.


In December 2014, he was also alleged to have killed one Lekan Akinshola at Oyegbola Street, Ilupeju, Lagos. Based on these reports, we went after him and members of his gang and the result is what you are seeing now." Jubilation in Mushin over arrest Last Wednesday when Crime Guard visited Mushin following news of Oloriesho's arrest, residents were seen in different areas celebrating his arrest. A resident, James Balogun, told Crime Guard that with Oloriesho's arrest, Mushin will be peaceful. He said Oloriesho had been enjoying protection from some influential politicians for a long time. "He also worked for politicians and they had been the ones shading him from arrest", Balogun Stated. "Last January, he was arrested by the police and taken to the Area D Command, Musihn, but less than four hours after his arrest, an influential politician came and bailed him. We learnt that the police at the area command took N500,000 bribe and they released him, but we are grateful that policemen from the SCID has moved in and arrested him."

When Crime Guard visited Tiaminu Street, where Aminat was killed, her father, Saheed Lateef, who was filled with joy when he spoke with Crime Guard, said he had waited for six years for justice, and was grateful to God that the police had gone after the killers of his daughter. "I have waited for six years for this day and I am grateful to God that I am alive to see my daughter's killers pay for their crimes. I thought there was no law in this country because this people who killed my daughter were walking the streets of Mushin as free men and each time I saw them, I wept and begged God to give justice to my poor child whose life was cut short prematurely. I can't fight them because they are usually armed."

Narrating how his child was murdered, Saheed said, "Aminat was a Primary 3 pupil of Ola Emma Nursery and Primary school, Mushin; she was shot dead at about 7.35 p.m on Tuesday, December 9, 2010, which was the eve of her birthday. I had sent her to buy food when these hoodlums saw and sprayed bullets on her. I was told by people who witnessed it that Aminat on sighting the hoodlums, who were on a revenge mission, hid behind a car, but the car could not protect her and the hoodlums sprayed the car with bullets and killed her instantly." Saheed who described the late Aminat as his precious first daughter said: "She was very humble and respectful. All I am asking from the government is to allow justice to prevail in this matter. I want the killers of my precious daughter to be brought to book."
---