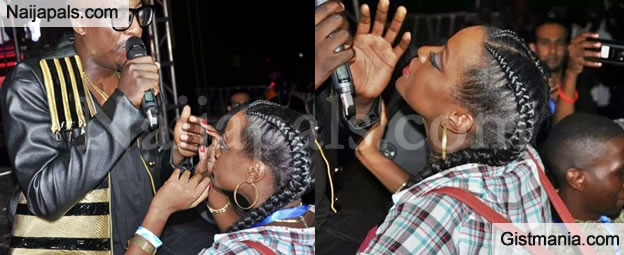 Bien-Aime Baraza, a member of Kenyan music group, Sauti Sol, recently embarrassed former Miss Uganda after she tried kissing him while on stage
Reports making rounds online which has gone viral on social media, reveals that popular singer, Bien-Aime Baraza who is a member of Kenyan afro-pop band, Sauti Sol, found himself in a sticky situation recently after a former Miss Uganda, Ellah Namtumbwe, tried to kiss him while on stage during a live performance that went down at Sheraton gardens, in Uganda.


Bien-Aime Baraza is the son of Kenyan's former Deputy Chief Justice, Nancy Baraza and is dating a sexy Nigerian lady named Chiki Onwukwe.
According to reports, it first started when the guy sat at the edge of the stage to get a little bit free with the audience, the lady quickly moved forward in between the artiste's legs looking into his eyes.


The artiste didn't mind. Then, as the artistes kept singing emotionally and tried to lean his back on the floor of the stage, the lady swiftly put her mouth on his crotch region.
The crowd shouted and she was about unzipping his trousers when she quickly withdrew, laughing back to her initial position even as the crowd kept screaming and booing at her.


News Every Hour reported that it all seemed like fun and everyone was cool and after that, the former beauty queen who was in the VIP section, jumped on stage not long after the artiste came back to perform again, and as soon as Sauti Sol got there, she tried to force a kiss on Bien-Aime who denied and embarrassed her.


It was gathered that she also started begging for the kiss but Baraza was having none of that. The move forced Bien and other members of the band to move to the other side of the stage for the last bit of their performance to avoid the love-stricken ex-Miss Uganda.
---
Posted: at 18-08-2016 10:24 AM (4 years ago) | Hero