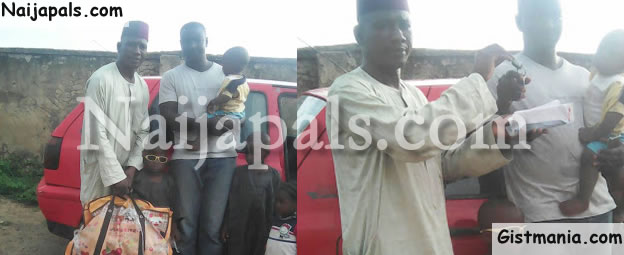 Here's an update on the little boy Abubakar Usman whose eyes were violently removed by suspected ritualists in the ancient city of Zaria in Kaduna State few months ago. According to freelance journalist Femi Owolabi, a kind-hearted man has donated a car to empower the father of the boy....




Read the full update below;
Few months ago, I told you of how a friend and sister told me to go track Abu, that four years old boy whose eyes were removed by suspected ritualists in Zaria.

I tracked Abu, and did an extensive report about everything, especially how the poor boy had been abandoned by Kaduna State Government who promised him heaven and earth. I told you how we gave Abu a new life, by registering him in a school where 'special' teachers have been hired to help out. I told you that we needed a keke (tricycle) for Abu's father, a driver who at the time was out of job, to use in moving his boy to and fro school and also for commercial purposes so he can, at least, be financially empowered.

Ladies and gentlemen, guests and friends, that person who, this morning, told me not to mention the name gave us the money, and instead of a keke, we got Abu's father a car that has four tyres!

I couldn't make it down to Zaria to do the presentation, but here is my representative doing it.

*That bag you see here contains toys and other materials for Abu..


---
For more scintillating and juicy stories, follow the official Naijapals accounts On Twitter - @Naijapals and Facebook - www.facebook.com/naijapals
---