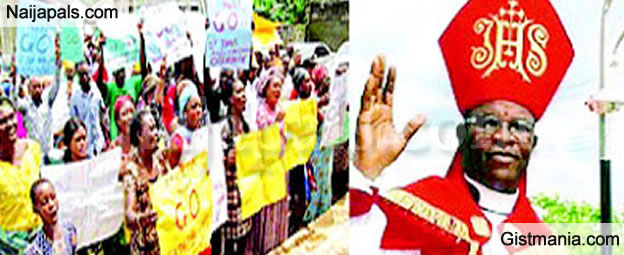 The Cathedral Church of Saint Luke, Anglican Diocese, Sapele, Delta State, has been dismembered by a crisis between worshippers and the presiding Bishop, Rt. Rev B. A. Erifeta, JP. Since July 2015, some worshippers, who are at loggerheads with the bishop over alleged financial impropriety, high handedness and maladministration, have refused to walk the sanctuary to reverence God, preferring to worship the Almighty in the open air, along Boyo Road in the town

The hostilities degenerated to the extent that the violent congregation locked the bishop, other members of the clergy and youths in the cathedral during a service, last year that it took the breaking of the keys of the burglary proof and gate for them to get out.


Saint Luke Cathedral, Sapele, is perhaps the only Anglican Church in the state where the members worship God in such a manner and even unbelievers are shocked as to why children of God would not bury the hatchet. The dispute erupted several years ago and efforts to resolve the conflict amicably have hit the wall. Primate, concerned bishops wade in Recently, the Bishops of Warri diocese, Rt Rev, Christian E. Ide, Oleh diocese, Rt Rev U Aruakpor and Erifeta himself went on a troubleshooting mission to notable members of the diocese, including Sir Newton Ejiro Omoko (JP), Chief E.K. Gbragada, Chief Omatseye One of Warri Kingdom, Sir, Simon Agbaroli and Chief J.I. Efemini a prominent Chief in Idjerhe Kingdom to let bygones by bygones, but there was no headway.




A source, however, said the matter was now at the table of the Primate of the Anglican diocese, who summoned the parties for a meeting, last Wednesday, but it was aborted because of his engagement. He added: "The primate will reschedule the meeting for another day if it has not been done already." Our complaint against Erifeta – Aggrieved worshipers The parishioners submitted a 67-point allegation against their bishop ranging from financial impropriety to stealing and immoral activities. A member of the Saint Luke Cathedral, Sapele, who accused Erifeta and his supporters of standing the truth on the head, told NDV:

"The first sign of trouble was in April 2014 when he (Erifeta) allegedly disbanded the over 100-member choir of the church. Some elders of the church, some between the ages of 70-90 years went to beg him and he practically chased them out of his office, vowing to set up his own choir.

"As we speak, the building (church) has been abandoned and taken over by weeds while inside the auditorium is dirty, a sign of not being used, over a long while. We worship outside, along Boyo road, near the cathedral. You can see that we have erected canopies to conduct their services every Sunday. "Since we started worshiping outside, we have witnessed a lot of revival as many of those who left the cathedral on account of Bishop Blessing Erifeta's alleged unbearable attitude have returned with several positive testimonies."

He added: "You asked why we worship outdoors, the outside worship is to protest the continued stay of the bishop. Some of the allegations against the bishop among others were that he denigrated the church when he turned his staff upside down in the altar and placed curses on members of the church, mismanagement of church funds, abuse of elders of the church and all that.

Crumbling pulpit

"Is it not strange that the pulpit of the church collapsed when the bishop was having bible study with his clergy on 17th Feb 2015, and recently the pulpit of Our Redeemer Anglican Church Sapele, crashed when the bishop was studying with his priests on 27th September 2016? He however promised to fix it," he said.

He asserted: "Regrettably, the bishop failed to get read the handwriting on the wall even after one of the priests, Venerable O.E Okpara, who preached in the cathedral using the platform of the pulpit after it was repaired, died weeks later."

His words: "After this incidence, the members of the church wrote a petition to the primate elucidating on the above allegations against the bishop. Members have expressed grave concern and dismay on the insincerity of the church authority to uphold the truth. The matter has been to the domain of traditional rulers in the area, Assistant Inspector General of Police, AIG, Zone 5, Benin City, court, etc. Supposed prejudice

"The people perceive injustice by the church authorities and this has made the resolution difficult. It was reported that the panels set up by the church authority was skewed to give the bishop an advantage and the people rejected them, insisting that there must be fairness," he said.

Contrary to the stand of the spokesperson of the church, he said: "All the Anglican churches in Sapele and environs are unanimous on the bishop's removal as they have stopped remitting money to the diocese until Bishop Erifeta is removed. Currently, all the churches are witnessing massive development since the stoppage of assessment."



---