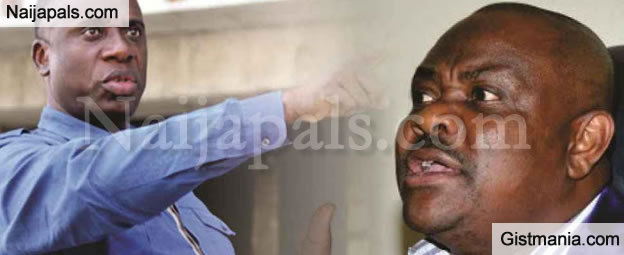 Few days to the December 10 re-run elections in Rivers State, former governor of Rivers State and Minister of Transportation, Rt. Hon. Chibuike Rotimi Amaechi has alleged that Rivers State Governor, Nyesom Wike cannot deny his involvement and sponsorship of the killing of innocent Rivers people and stalwarts of the APC in the 2015 general elections and the March 19 re-run elections in the state.

Amaechi spoke with newsmen at the Port Harcourt International airport on arrival in the State for the Saturday re-run legislative elections.

He said the cache of arms and ammunitions Wike recovered from cultists during the first phase of the Rivers state Amnesty Programme were evidences to buttress his allegations. According to him,"Wike has not denied he did not kill people, he sponsored those who carried arms in the 2015 general elections, even, during the campaigns." "Our people were beaten, manhandled and others threatened, leaving many dead, but, we will not continue to allow these things to happen like that.

Members of the PDP were also responsible for killing APC members in Omoku". When asked that PDP and Governor Wike alleged the Police and INEC in Rivers state have connived to manipulate election results in favour of APC, Amaechi said, "If Governor Wike and the PDP have justifiable evidence, let them present it to the general public and stop blackmailing me or INEC and Police." "The allegations are immaterial, null and void. Why is Wike and PDP making too much noise and fruitless allegations?"

Amaechi argued that he is more popular than all those in the PDP because, when he left office in 2015 as Governor of Rivers state, he had over 75 per cent support from Rivers people and other Nigerians resident in the state. According to him, "This is so because, as Governor then, l overhauled the Health and Education sectors by promoting Free Health care system and Free Education, over 10,000 teachers were employed, including the building of critical infrastructures, roads and youth empowerment, making Rivers people and other Nigerians to experience change." "So l am very sure l had more popularity than any PDP stakeholder including Governors across the country."

Amaechi also averred the All Progressives Congress,(APC) has been campaigning for candidates in the re-run election in remote parts of the state, adding that, his arrival from Abuja on Tuesday night to Port Harcourt marks the third visit to join stakeholders of the party for campaigns in the state. He urged the people of the state to disabuse their minds against comments by the PDP and Governor Wike, which he said, were calculated to rubbish him in the eyes of right thinking persons, in order to score cheap popularity and further whip up public sentiments to heat up the polity.

"On Wednesday, l will also join the APC stakeholders to carry out further campaigns, while on Thursday, there will be national campaign for the Party in the state to indicate our readiness and preparedness for the re-run elections" Amaechi said. He called on Rivers people and other Nigerians resident in the state, including supporters and stalwarts of the APC to turn out en- mass to vote on Saturday urging them to always protect their votes at election venues. "Before now, l used to tell my Party members to vote and protect their votes, but there has been complaints of indecent attacks from the PDP , so, l have asked the APC party members to protect their votes and their lives as well, because the PDP cannot be bigger than everybody everywhere," Amaechi explained.
Posted: (3 years ago) on 7-12-2016 04:47 PM | Gistmaniac