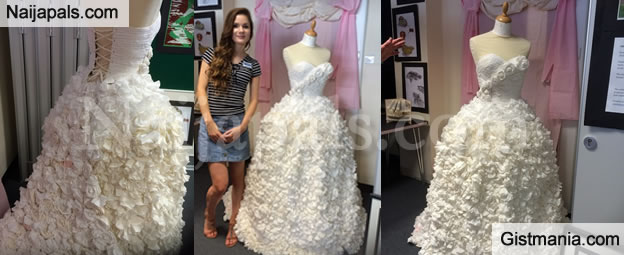 A new kind of wedding dress has been created using very unlikely materials and the creation has caused quite a buzz around the world. Rachel Lefleur is a teenager who has stunned people with her creation. The lady has created a stunning handmade wedding dress from just £10s worth of toilet roll.


According to The Sun UK, Rachel Lefleur was 15 when she started making the dress for her GCSE art coursework in October 2015.

The intricate size eight gown is stapled, glued and taped together and features a sweetheart neckline, bodice with a lace-up back and full skirt and train of white toilet roll 'roses' dipped in glitter.


The gown – which cost a total of £30 to make with glitter, glue and beading – took four months and 'hundreds of hours' to complete. The student used 19 rolls of Cushelle to create the dress which can be worn, weather-dependent. Rachel, from Orpington, Kent, is now 16 and lives with her parents Denise, 51, and Gavin Lefleur, 48, a computer analyst.

She explained:

Quote

"I'd never made a dress before but I was inspired by watching images of American toilet paper clothing contests on YouTube and thought I'd give it ago.
"It became a real labour of love and I couldn't even guess how many hours I spent on it. But I'm so pleased with the finished result."




Rachel got an A* for her art GCSE and is now in year 12 studying art and design for A-Level.
Proud mum Denise, a legal secretary, added:

Quote

"We've had toilet roll strewn across the house for months and it was stressful watching her try and get it all finished in time.
"I'm so proud of her, the dress is beautiful and any bride would be lucky to wear it. You'd never guess it was made from toilet roll."



---