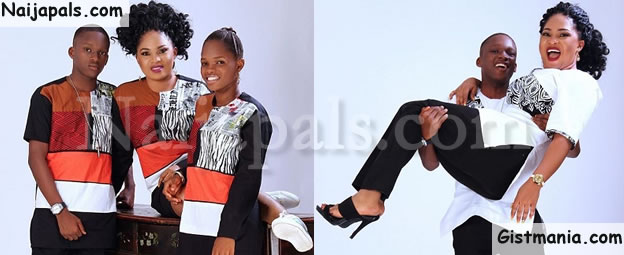 A Nigerian actress and mother of two has shared inspirational story how she survived after the sudden death of her husband.

Nollywood actress, Regina Chukwu has shared her motivational story how poverty nearly forced her to abort her pregnancy following the sudden death of her husband. She took out time to celebrate her son who just turned 14 and shared the story behind his birth.

The actress who has two kids urged her fans never to give up. She wrote: "Ring the bell sound the alarm for on this very day 14yrs ago a prince was born Am I going to write an epistle this year AGAIN? Ofcos I will.


Regina Chukwu and her son Richard


"This young man here reminds me so much of his late father *mixfeelings*Come with me as I travel down memory lane;

"On this faithful day, I walked into my then pastor's office (I had come for counseling) after exchanging pleasantries, the pastor showed me to a seat N as made to seat comfortably he said nd I quote 'sister the lord will visit you with a male child soon' on hearing that my eyes went straight to the calendar that was hung on the wall of his office, and I realised I was 2 weeks late.

"There and then, the world around me collapsed, I am supposed to be happy but I was not, why? You do ask….. as at that time, we were living from hand to mouth, my husband was sick and to crown it all Racheal was just like a year.

"At that spot I decided abortion was the solution but I made sure not to betray my emotion in the presence of our pastor. I got home and I said to my husband 'I think I am pregnant' and like I had envisaged he said it to me point blank 'we are getting rid of it' how do we have another child in this condition.

"I said okay but that the pastor said it's a male child o and like the typical Igbo man that my husband is now, his face brightened up at the mention of a MALE child, so he said to me 'chi maybe we should leave it, God will provide' he was from zero to 100 in less than a min.

to cut the long story short Maduabuchi Richard Nwafor came into our lives after nine months and the father left us when he was just 4months (he waited for him) a lot of things happened in that space of 13 months but it's a story for another day .

"My son thank God I kept you, you and your sister have been a great source of strength to me this past years. Sunday left me with the most beautiful gift which is the both of you, and I love that you are my kids cos no one understands me like the both of you I pray this will not be your last birthday on earth your father died young you will live to be very old I will never have any cause to cry over U both happy birthday son momma loves u scarra N ur sister loves you too.

"So as the photoshoot was going on, the photographer @salaamjamiu jamiu asked if I could pls lift @richardnwafor up and pose for a shoot and I was like 'of cos I can carry him' that was how I tried lifting him up o, alas! I couldn't even get his two feets off the ground like I almost fell o and am like Biko nu' so I can't carry this small buchi *the boy yaf big finish* .

"Everyone present was rolling on the floor now they suggested that he should carry me instead and I shouted 'he can't carry me o' but buchi was like mummy haba I can carry you now and before I could say JACK my feets were off the ground.

***unbelievable*** I love you so much maduabuchi ricahard Nwafor"


---
Posted: (3 years ago) at 11-12-2016 06:46 AM | Addicted Hero