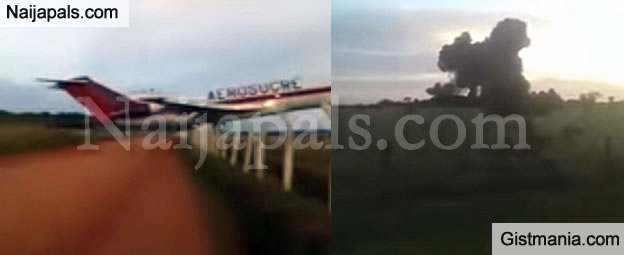 Five people have reportedly been killed after a Boeing cargo plane overshot the runway on takeoff just moments before crashing in a Colombia field on Tuesday.The plane, belonging to Colombian airliner Aerosucre, crashed in Puerto Carreño, Colombia, and was carrying six people on board, the pilot, co-pilot and crew members, Telesur TV reported. According to local media, one person survived. The plane crashed after leaving the German Olano airport, near the Venezuelan border. Witnesses captured dramatic footage of the flight overshooting the runway and struggling to gain altitude.
At one point it appeared the plane may have hit a fence surrounding the airport. The footage then shows the Boeing 727 aircraft descending into the field and bursting into flames.
The flight took off around 5.15pm local time and crashed about 10 miles from the German Olano Airport, some three minutes after takeoff, the Civil Aviation authority said in a statement.
The deadly air crash comes less than a month after 71 passengers were killed in the November 28 air disaster after a jet crashed into a mountain, wiping out a Brazilian football team.