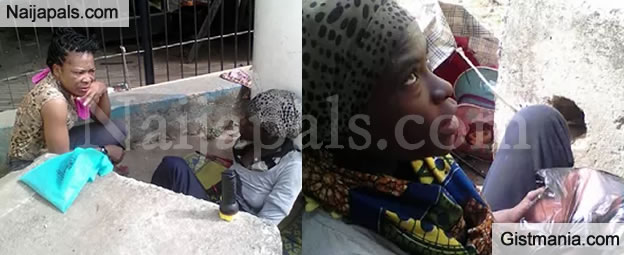 A Facebook user, Tina Uche shared photos and the story of a lady who recently lost her father and came to Lagos with a friend for a church programme but was abandoned by the friend.
According to the story shared on her Facebook wall, the lady is identified as Nkiruka Oluchi David Nwabueze and has been sleeping near a bus stop in Idimu, Lagos.
She was invited to a church a programme in Lagos by a friend after she lost her dad. On getting to Lagos, she discovered that, they was no church programme as they just met one man and a woman, and that is the last thing she can remember about that day. Read the full story below..


Quote

Her name is Oluchi Nkiruka David Nwabueze. She is from Naze Owerri -North. Imo State. She stays very close to a bus stop in Idimu, Lagos. Seen her for some time now but couldn't summon a enough courage to approach her because I do not know her mental state. Moreover I wanted to avoid that kind of story that touches the heart.
On my way back from church yesterday, 1st January, we ran into each other. I discovered that she is harmless, so today I decided to pay her a visit.
When I got to her she recognised me. I want to make it very short for am not good with long post.
She came to lagos after the death of her father. She had a friend that told her about a programme in one church. She followed him but on getting there, it was not a church. They met one man and a woman. That was all she can remember. I want to appeal to you my beloved friends to re-broadcast this. Am not good in
tagging friends. She needs medical attention, shelter etc. Looking at some of the pictures, she was showing me her tools for shining shoes
but imagined who will patronize her. Again she showed me some bags of stones she gathered for sale. Talking with her, I said to myself, what a talent. My fear. She is exposed to abuse and molestation. Please lets help until the appropriate authorities come to her aid. Happy new year again to you as you help Oluchi to get help.



---
Posted: at 5-01-2017 11:31 AM (5 years ago) | Hero