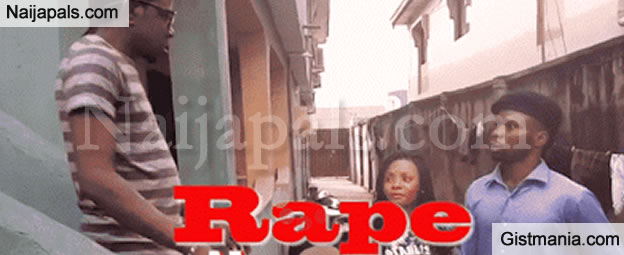 Nigerian comedian Babadebaba is right now under fire after he released a comedy skit title Rape Nonsense. A video he says promotes the campaign that girls should never sleep in a man's house if she doesn't want to have sex with him.
According to Babadebaba:


Quote

I went to the police station to make a report when I saw a guy being interrogated by the police.
He was accused of ATTEMPTED RAPE by a girl he invited from Anambra state to Lagos via Facebook.
The girl stayed with him for a week and he treated her nicely but she denied him sex... so on the last night of her stay, he decided to force her but the girl didn't succumb and she
arrested the guy.
While they were arguing, the police guy with me told me that the case didn't make sense because any girl that goes to pass night in a guy's house should know that the guy would want sex.. he added that instead of him to invite a girl and spend that much without touching her that he would rather invite his sister.
Meanwhile the police men were just changing it for the boy telling him that its a crime to invite a girl that's not his wife to his house, what about if the girl had died there....bla bla bla.
I wanted to rescue the guy so I told the policeman that since the case doesn't make sense that he should just ask them to go and he replied me "ha!! Baba De Baba, rape is a very sensitive case o, if this girl takes it up that the police may land in trouble".
Like play, like play i saw the guy yesterday and he told me he was bailed with 20k.
so a guy was bailed with 20k for a case that didn't make sense *thinking*
now that rape case is now another source of revenue for the police, I think the law on rape should be reviewed that whatever happens when an adult goes to visit a guy who is not her family member is not rape and no girl should visit a guy she can't sleep with.
In Order to promote this campaign, am releasing this skit today titled RAPE NONSENSE.



This video sparked outrage after Babadebaba released and even got him into a fierce argument with a rape survivor. Comments on the Youtube are blasting the comedian too.
---
Posted: at 23-01-2017 10:36 AM (4 years ago) | Hero