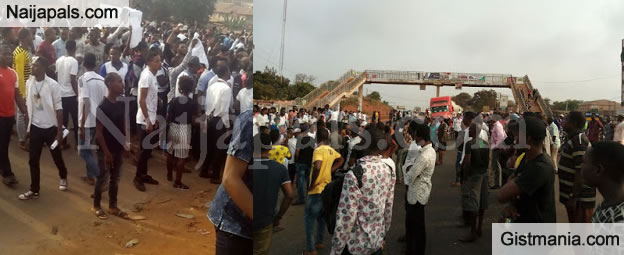 There is a serious riot currently on-going in Auchi Poly and an insider who contacted me says that Soldiers have arrived the scene and the Benin -Okene expressway is currently blocked..


Quote

Goodmorning Naijapals
This is to bring to your notice and the general public that the students of the great institution of Auchi polytechnic Edo state are holding a peaceful protest .
Enough! Enough!! Enough!!!
Enough Is a enough we can not fold our hands and watch some group of people destroying our future right in front of our eyes over their selfish and personal interest, illegitimate desire, unscrupulous demands, contumacious request, nonchalant and recalcitrant attitude, we cannot spend more than d necessary years for ND and HND bcos of dem, dey made spat students to spend 4 years instead of d normal 3years and now dey still want to repeat dat same nonsense virulent virago dat may be capable of corralling this our prosperous institution into a pathological compulsion of social geopolitical asphyxia and as such repainting our great institution with a thick black film pigment of shame which is deleterious, pernicious and malevolent to all of us without rejuvenating and easy resuscitation from d stigma... We will not allow dem to spoil our own with their own especially now that we are trying to revamp d school back to her position of being d best polytechnic in Africa with a slogan of "AUCHI POLYTECHNIC LEAD, OTHERS FOLLOW" it has never been like dis b4 and it will never be in this our time...............#please big mummy help us post this in your blog,we want our voices to be heard....#Anonymous,please don't publish my e-mail address.
God bless u'

'
If you have wards there,please call them to step back and leave ASAP.

Problem with this article? Please contact us