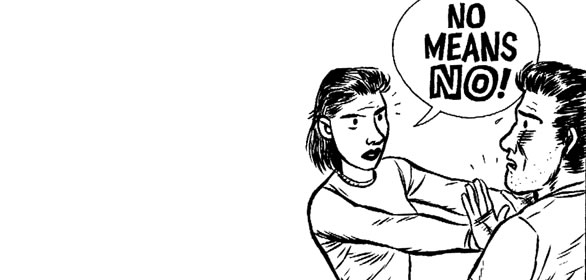 A 29-year-old man, Ajao Olalekan, was on Friday brought before an Ikorodu Chief Magistrates' Court, Lagos State, for alleged forceful s*xual intercourse with his 19-year-old girlfriend.

The accused, a resident of Morayo Benson Street, Ikorodu, is facing a charge of forceful s*xual intercourse.

He, however, pleaded not guilty to the charge.

The Police prosecutor, Cpl. John Iberedem, while reading out the offence, told the court that the accused committed the offence at his residence on March 19, at 2.00 p.m.

Iberedem said, "The girl in question [name withheld] was the accused person's girlfriend, but there was an agreement between them that there won't be any s*xual intercourse until after they are married.

"On the day of the incident, the accused invited his girlfriend to his house; the defendant's friend was in the sitting room.

"The accused took his girlfriend inside the room, his friend increased the volume of the television, and the accused forcefully deflowered her.

"Investigation revealed that he had planned with his friend to increase the volume of the television when he took her inside.

"It was then she cried out and reported to the Lagos State Domestic and s*xual Violence Response Team , which took up the case, and reported it at the Igbogbo Police Station."

The PRO said the offence goes against Section 258 of the Criminal Code Laws of Lagos State, which stipulates life imprisonment for offenders.

The Magistrate, Abiodun Shoniyi , granted him bail in the sum of N150, 000, with two sureties that must show evidence of three years of tax payment.

The matter was adjourned until May 11, for trial.
Problem with this article? Please contact us
---