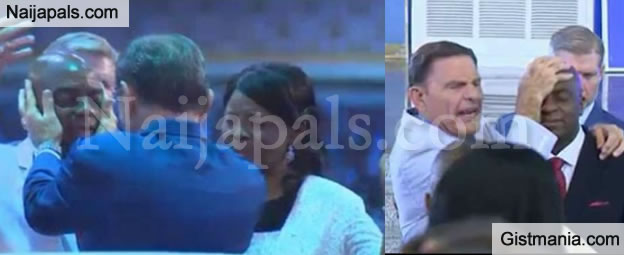 Bishop David Oyedepo of Winners Chapel has received more anointing from popular and rich man of God, Kenneth Copeland after he laid hands on him.
A video of popular and rich US televangelist, Kenneth Copeland laying hands on Bishop David Oyedepo of Winners Chapel has caused a stir on social media as many people do not know what to make of the clip.

In the video, Oyedepo and his wife could be seen standing in front of Copeland who later blessed the couple for the 'next anointing' at the 36th year anniversary service of the church. The incident happened in front of thousands at the close of the international ministers conference held on the 5th of May, 2017.

"If I was a member of Winners I would feel somehow, another pastor from another ministry coming to lay hands on my pastor in his own church." a reader commented.

Another added: "A prophet who can't prophecy just 10 bet9ja odds for his members to become rich. is that one a prophet??"


Watch video below:

---