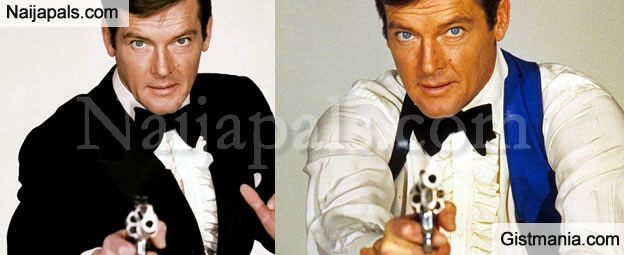 Veteran Actor, Sir Roger Moore popularly known as "James Bond" is dead.

The Hollywood star reportedly died after a brief battle with cancer.
The information regarding his demise was made known in a statement made by his family members today, 23rd of May 2017 which reads,"


"With the heaviest of hearts, we must share the awful news that our father, Sir Roger Moore, passed away today. We are all devastated" the family tweeted.

"It is with a heavy heart that we must announce our loving father, Sir Roger Moore, has passed away today in Switzerland after a short but brave battle with cancer.

"The love with which he was surrounded in his final days was so great it cannot be quantified in words alone."

"We know our own love and admiration will be magnified many times over, across the world, by people who knew him for his films, his television shows and his passionate work for Unicef, which he considered to be his greatest achievement.

"Thank you Pops for being you, and for being so very special to so many people.

"Our thoughts must now turn to supporting Kristina at this difficult time, and in accordance with our father's wishes there will be a private funeral in Monaco."

The statement was signed by Sir Roger's children, Deborah, Geoffrey and Christian.

According to the statement, 'he died after a short but brave battle with cancer'.
---