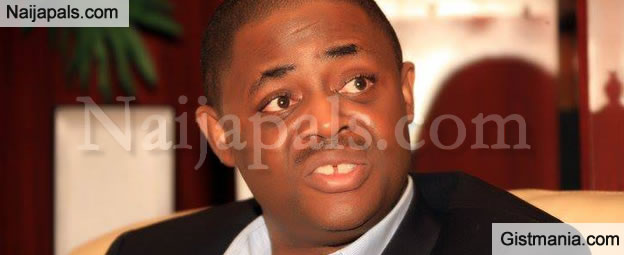 Pastor Moshood Ifayemiwo, a pastor in Maryland, United States of America has predicted that former minister of Aviation and a critic of President Buhari Chief Femi Fani-Kayode will soon die.
The pastor backed his prediction by citing some verses from the bible. He said:

Quote

"I have never met Mr. Femi Fani-Kayode in my life, but have read some of his write-up in the papers. There are some of his views I do not share, but at times reason with some of his cogitation.
"I saw his immediate political future recently, but I am sad to report that his star may dim so soon, if he doesn't pray and change course. Here is what the Holy Spirit is telling us to tell Mr. Fani-Kayode
After the death of Saul, David returned from striking down the Amalekites and stayed in Ziklag two days. On the third day, a man arrived from Saul's camp with his clothes torn and dust on his head. When he came to David, he fell to the ground to pay him honor. "Where have you come from?" David asked him. He answered: "I have escaped from the Israelite camp." "What happened?" David asked. "Tell me." "The men fled from the battle," he replied. "Many of them fell and died. And Saul and his son Jonathan are dead."
Then David said to the young man who brought him the report: "How do you know that Saul and his son Jonathan are dead?" "I happened to be on Mount Gilboa," the young man said, "and there was Saul, leaning on his spear, with the chariots and their drivers in hot pursuit. When he turned around and saw me, he called out to me, and I said: 'What can I do?' "He asked me, 'Who are you?' "'An Amalekite,' I answered. "Then he said to me, 'Stand here by me and kill me! I'm in the throes of death, but I'm still alive.' "So, I stood beside him and killed him, because I knew that after he had fallen he could not survive. And I took the crown that was on his head and the band on his arm and have brought them here to my lord."
Then David and all the men with him took hold of their clothes and tore them. They mourned and wept and fasted till evening for Saul and his son Jonathan, and for the army of the LORD and for the nation of Israel, because they had fallen by the sword. David said to the young man who brought him the report, "Where are you from?" "I am the son of a foreigner, an Amalekite," he answered. David asked him, "Why weren't you afraid to lift your hand to destroy the LORD's anointed?"
Then David called one of his men and said: "Go, strike him down!" So, he struck him down, and he died. For David had said to him: "Your blood be on your own head. Your own mouth testified against you when you said, 'I killed the LORD's anointed.'" (II Samuel 1:1-15). This demands for wisdom and spiritual understanding."
"Most columnists, writers and public commentators have shied away from doing so but today yours truly will treat a matter and pose a question that is in the hearts and minds of many both within and outside Nigeria. "The question is whether President Muhammadu Buhari (remember him?) is actually dead or still alive. And, assuming that he is still alive, is he lost to the world in a vegetative state and deep coma, is he suffering from an extreeme and crippling form of dementia or is he lucid, functional, rational and clear-thinking? "These are the relevant and poignant questions that many are seeking answers to yet this whole matter and everything that flows from it, for some strange and inexplicable reason, is shrouded in the utmost secrecy and subtefuge."
Responding, in a statement on Sunday, FFK said having read about the cleric, sacrifices he made during the June 12th struggle and his incarceration for some years, "I commend him for his courage at that difficult time in our history".
He told the pastor that the prophecy is not for him. Quoting from the Bible verse Pastor Ifayemiwo used to illustrate the Pastor's death prediction, Fani-Kayode replied "He can however be rest assured that I am not an Amalekite."
"No-one will chop my head off or kill me before my time and neither am I a messenger. I am David, I cannot be cut short and I cannot die before my time.
'I am a King and I will chop off the heads of the Amalekites and ALL my enemies at the soonest."
Fani-Kayode boasted that he has won many battles against the government and his enemies, saying "These things do not happen by my power but by the power of God.
"Anyone that seeks to destroy me, that seeks my hurt, that seeks to abort God's plan for my life or that wishes me ill always has a terrible end or is stalked by misfortune and tragedy.
"I will carry out my assignment in this nation and on this planet successfully before I am called home whether my detractors like it or not. I shall live long and prosper because the Lord is with me.
"And like David at Ziklag I shall pursue, overtake and recover all that my enemies have taken from me. The Lord is faithful to His own. Shalom",

the former presidential spokesman added.