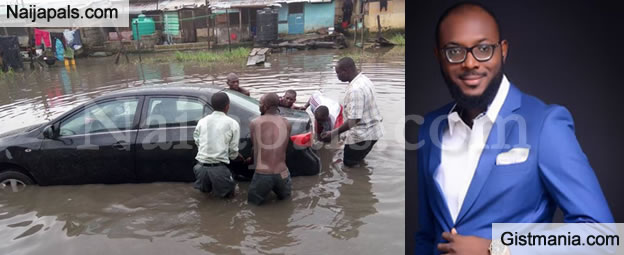 The issues of flood and traffic in Lagos has been left unabated for ages now as it worsens during the raining season thereby giving visitors bad impressions. Baba Isa, his Uber driver and some residents struggling with the hired car in the flood. A Nigerian lawyer identified as Firsts Baba Isa, based in Abuja has narrated his "horrible" experience in Lagos after falling in love with the commercial city. The man and his Uber driver got stuck in a flood after deciding to take a short-cut to the airport.

Read what he shared on his social media page yesterday:
Lagos does it to me again.
I remember sometime last year when I came to Lagos and had to literally swim through a flood to find my way to court. Since then I have been to Lagos several times and I thought those days are gone for good. I thought Lagos finally decided to be nice to the Ninja Lawyer.


On Tuesday I waited for 5 hours in the Abuja airport before getting to Lagos. A 6pm flight became 7:30pm and finally we took off by 9pm or thereabouts for Lagos. We landed way pass 10pm and by the time I got to Lekki where I will be lodging Wednesday was saying goodbye to Tuesday.


Well, this wasn't entirely Lagos fault, so I didn't allow it affect our relationship. I started questioning my decision to fall in love with Lagos when on my way to court on Wednesday morning I got caught up in a nasty traffic.

I knew it. This traffic will not allow my relationship with Lagos to flourish. I gnashed my teeth throughout the uber ride to court and by the time I got there court was already sitting. Hay God!
Luckily I wasn't late for my matter. After court, I and Lagos made up. I hooked up with some friends and proteges. We sat out for lunch and a beautiful discussion. Yeah, Lasgidi, this is how to be romantic in a relationship.
Then Lagos...This morning I booked an uber ride, heads to the airport to catch my 11am flight, then Lagos started happening to me. My oversabi driver started looking for short cuts to beat traffic. Me, what and where do I know na? I sat down there giving tacit approval: go guy, go; by all means dodge the gaddem traffic!


We negotiated a bend and a massive body of water appeared before us in the middle of a dilapidated street. My driver drove to what he considered the side of the body of water and roared in.
Right in the middle of that big dirty body of water, the engine died without even giving us the respect of coughing the traditional last cough cars cough before they die.
Before you can say Juliet, the car was already flooding. The driver got out and swam to safety leaving me in the car. I was shouting for him to come open the door for me before that bastard realized that he has mistakenly locked me in.
I swam out too. Shoe, trousers and all. We got my laptop bag and suit case out before water could get to it but my other bag in the boot wasn't that lucky. It was dripping water when we brought it out. My court files, my diary, my books are in this bag.

I started to laugh because I wanted to cry. We paid some guys to push the car out of the water and another uber came to pick me up to the airport. The race to catch my flight began in the wicked Lagos traffic. God even saved me from a terrible accident.
My driver nearly ran into a parked car, thinking it was a moving car. He missed it by the whiskers. Hay God. I begged him to take it easy. It was clear I will miss my flight anyways.
Then I prayed to God for the flight to be delayed. Just as I said "Amen", I got a text: the 11am flight has been shifted to 2pm. If you see the way I celebrated God in that car ehn, the driver just weak.

You may call this coincidence. You might have a scientific or whatever explanation for this occurrence, that one is your own. All I know is that I prayed for that flight to be shifted and it was shifted immediately. Praise God.
---