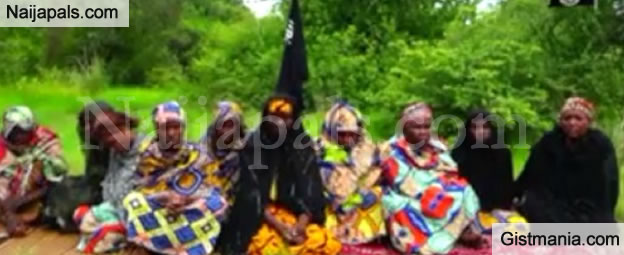 A video showing 10 distraught women, most of them mothers was sent exclusively to SaharaReporters moments ago. The Nigerian Police has earlier refuted claims by Boko Haram that no police officers were either killed or abducted by the terror group.
Although, the two women that spoke in the video did not introduce themselves as police personnels, but Amina Adam Gomdia that spoke eloquently in Hausa said, five of the women in their midst are public servants who are also breadwinners in their families.


It is not clear if the other women who could not evidently hold back tears and shock to even say out their names are police women or, wives of police officers. However, the convoy they were travelling in when they were attacked few kilometres after Maiduguri along Damboa was carrying the corpse of a deceased police woman earlier killed by the terrorist group.
One of the women that spoke in the video who gave her name as Deborah Philipus said, right from the minute they were abducted, Boko Haram treated their wounds and they have never lacked what to eat, they bring water to us and whatever we need.
"We are grateful to you (referring to Boko Haram), but the Government of Nigeria should not say we were not abducted, indeed we were abducted," said Philibus.


Another of the abducted women, Amina Adam Gomdia, introduced herself as a lecturer with the Federal College of Fisheries, Baga whom SaharaReporters learned was widowed by Boko Haram after her husband and two sons were slaughtered before her eyes in the early years of the Boko Haram conflict in Maiduguri, survived and has been looking after the rest of her children as "their mother and father," as she herself mentioned in the 4 minutes 41 seconds Video.
The two women that spoke on behalf of the 10 abducted women pleaded with the Federal government not to forsake them and should do everything it can to rescue them like the Chibokgirls.
"Today, here we are, everyone has seen us, our relatives have seen us, government, our youngsters have all seen us, this is not a lie, we have been abducted for 30 days," said the distraught Amina


Posted: at 17-07-2017 03:20 PM (5 years ago) | Addicted Hero