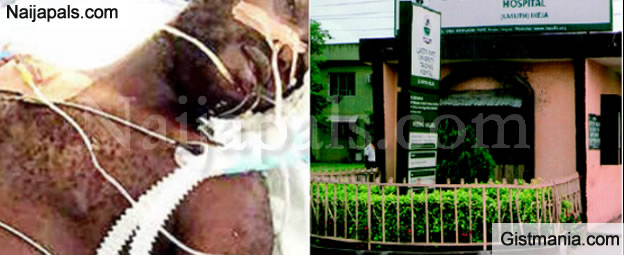 Controversy has arisen over the death of a 29-year-old graduate of the University of Bauchi, Kolawole Idowu, at the Lagos State University Teaching Hospital, Ikeja.
Family members of the victim said although Kolawole died at LASUTH, they believed his condition was worsened by doctors at the Ikeja Medical Centre, a private facility on Allen Avenue, Ikeja.
Gistmania gathered that Kolawole, who concluded his youth service in Lagos sometime in April, took ill a few days afterwards.
He was reported to have complained of "teary eyes and body pains" and had gone to the Ikeja Medical Centre, which was the family hospital. It was gathered that like other children of the family, he was born at the hospital.
After a doctor allegedly recommended some malaria drugs and later an eye drop, the situation was said to have worsened, leading to his admission to the hospital.
Our correspondent was told that the hospital later said he was manifesting signs of a mental illness and began treating him for "psychosis."
When there was no improvement, the hospital was said to have referred him to LASUTH, where he went into a coma and later died at the Intensive Care Unit.
The victim's brother, Kunle, told PUNCH Metro that his late brother's medical condition was not handled properly at the medical centre, adding that he was given some injections which affected his health.
Kunle alleged that the injections made him to misbehave, saying anytime the effect of the injections wore off, he would regain his senses, run back home and beg to be taken away from the hospital.
He explained that when he (Kunle) observed that their maternal grandparents were adamant on keeping him (Kolawole) at the hospital, he challenged them and broke some property in the house, which led to his arrest and detention.
He said, "The illness started at the end of April, about a week after his youth service. I am a politician and I was running a campaign to become a councillor at that period. Kola complained that he had been having burning sensations all over his body and his eyes had been teary. I advised him to go for a lab test, but he said he would go to our family hospital. He went to the hospital where he was given an eye drop, which he started reacting adversely to.
"He went back to the medical centre and he was told that he had malaria. The doctor prescribed a malaria drug for him. However, he started reacting negatively again to the drug. That was when the doctor said he was having fits of delirium and showing signs of dementia."
He explained that the doctor insisted on admitting Kolawole, but he objected, adding that the grandparents believed the doctor and supported the move.
On the first week of his admission, Kunle said he was not satisfied with his brother's treatment, but the hospital assured him that Kolawole needed rest.
He noted that he became concerned when Kolawole's friends, who also visited the hospital, made similar observations. He said he asked for the victim's transfer to another hospital.
Kunle said he met the grandparents and asked for permission to move his brother from the hosipital, but they objected due to the family's long-time relationship with the hospital.
"I was angry with the hospital because they kept saying different things. First, it was delirium, then stress. They kept giving him injections. My brother was always saying he wanted to leave the hospital. Once he said that, they would say he had started again and give him more injections.
"I told them that my brother was not mentally ill; he wanted to leave the hospital because they didn't know what they were doing," Kunle said.
He added that because of his increasing political engagement, the time he had for Kolawole became limited.
Gistmania learnt that there was a crisis in the house on May 17, 2017, when late Kolawole ran home from the hospital.
The grandparents were reported to have called a doctor at the medical centre to come with an injection for psychiatric patients to calm him down, a suggestion rejected by Kunle.


Quote

"I was angry because each time they give him the injection, he lost his senses. They (grandparents) asked me to shut up. For two weeks, that was what they told me. I was angry and I couldn't take it again because I knew the doctor was on the way with the injection. I lost control and started shouting that they should not give him any drug.

"He was always coming home each time he realised that they were not treating him well. But my grandparents would take him back and he would obey so that he would not look like a disobedient child. The injection was killing him.

Quote

"That day, they asked the house help to lock the door. Because I could not sit down and watch him take another injection, I broke the door and left the house,"

he added.

Gistmania learnt that some relatives alerted the police of Kunle's action and he was detained for a day.

Kunle said after that incident, he was told that his brother's condition had aggravated and he had been taken to LASUTH.

He explained that Kolawole was admitted to the psychiatric ward of LASUTH, based on a referral letter from the medical centre.

Kunle said his brother was put in the same ward with patients who had serious mental problems and he spent about 10 days in the ward.

"He was later taken to the ICU where he spent two months and struggled to live. But the damage had been done because my brother had spent two weeks at the medical centre, 10 days at LASUTH psychiatric ward before he collapsed and was taken to the ICU.

"Some specialists at LASUTH later examined him and said it was not a psychotic case. They moved him to the ICU because he was at the point of death. I watched over him at the ICU for the two months.

"At one point, the seizure he was having stopped, and I thought he was getting better, not knowing my brother was dying,"

he said.
While insisting that Kolawole was not a drug addict, he said he had arranged with an Iranian doctor to move him out of the country, but was told that the brother must come out of a coma before he could be flown out.
He said,

Quote

"The doctors at LASUTH told us that he was not mad; that he had bacteria which probably got into his brain. They said the medical practitioners at the first hospital messed him up. I called a doctor friend, who said my brother had an infection called meninges and it affected his brain. She said antibiotics could have cured him.
"Each day he spent at the ICU cost us N50,000. And that was aside the N100,000 on drugs and another N500,000 on a particular test. We spent millions of naira on treatment.
"When my brother died, we had to give out some of the drugs he didn't use. But my eldest brother, Kunle, decided to bring home a particular one recommended for us from the medical centre, called Haloperidol. When I googled it, I discovered that my brother manifested the exact signs stated in the abuse of the drug, including stiffness and coma, before he died."




The victim's mother, Mopelola, in an emotional message she broadcast on Whatsapp a few days to her son's death, alleged that the doctor who treated him apologised to the family.


Quote

Quote

"To God be the glory; this is very said. But I must tell it. I gave birth to Kolawole 29 years ago at the same hospital that administered wrong medication that has put him in a life-threatening condition. The doctor that started his treatment went to my aged father of 86 years to apologise, confessing that he gave Kolawole a wrong medication.
"I believe this is the beginning of Kolawole's healing process. What can I do at this stage? We are spending millions on hospital treatment in an intensive care unit because of one little mistake that shouldn't have happened. God, you know best. Kolawole must live to testify to your glory,"

the message read.
Gistmania had a meeting with the Chief Medical Director of LASUTH, Prof. Adewale Oke, and some top principal officers of the government hospital.
Oke said there was a limit to the information that could be released due to the ethics of the medical profession.
He noted that Kolawole was examined and treated by specialists.
The hospital's consultant psychiatrist, Dr Atilola Olayinka, said he was the first to have contact with Kolawole after he was brought to the hospital.
He said, "He came in as an emergency case and we didn't have any other information to make us doubt the fact that it was most likely an ongoing psychiatric illness. On that basis, we received him to manage him for the illness.
LASUTH's consultant neurologist, Dr Olaitan Ojelabi, said the 29-year-old appeared "febrile, with restive signs and other symptoms, pointing at a case of meningoencephalitis (inflammation of the linings of the brain)."
"This condition could be caused by bacteria. To treat this, we upgraded his antibiotics, among other treatments," he added.
The Consultant Anaesthesia, Dr A.A. Majekodunmi, said the victim was later placed on a life-support machine.


Quote

"After about two weeks in the ICU, he started having problems with breathing and we had to put him on a ventilator to help him breathe. We repeated some investigations to find out what was wrong with him. The family was aware of the prognosis, and they were aware when it was getting worse. We saw that he was not responding to some medications that we gave him. Eventually, we had to put him on a supportive medication for his blood pressure until he eventually died. He was on life support for about a month before he passed on,"

she said.
A professor of Neurology, Prof. Yomi Ogun, expressed sadness at the death of Kolawole, saying a partial autopsy revealed the deceased's brain was swollen.
He noted that nobody could tell what really killed him "until the autopsy is subjected to histology."
He said,

Quote

"He had inflammation of the brain. If you have meningitis, there are two signs that we look out for, which were there. And maybe, some signs of inflammation; but we need to subject it to a histology for a definitive answer.
"When you suspect that your patient has meningitis, what you need to do is to commence a therapeutic trial of anti-TB medication. Because the moment they get unconscious, it might be difficult to reverse it and that was also done.
"By the time I got to see him, he was already in a coma. He was having convulsions all the while. We modified his treatment and he was stabilised for a few days."
The CMD of LASUTH, Oke, said the hospital started treatment based on the referral letter from the Ikeja Medical Centre, adding that nothing in the letter showed a case of malaria.
"His referral letter stated categorically that he had a mental issue. There was never a question of malaria. When patients come like that, we take them as we see them and we manage them based on whatever our specialties say.
"He had been outside our hospital for two weeks. The referral letter brought here says he had been having neuro-psychiatric symptoms,"

he added.