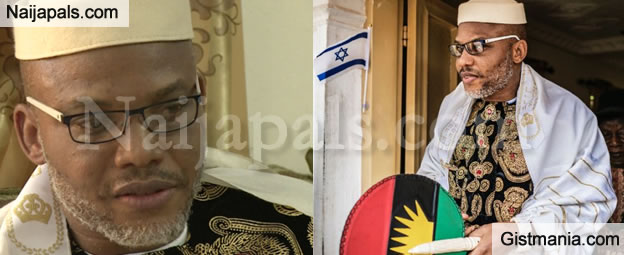 The leader of the Indigenous People of Biafra, Nnamdi Kanu has declared that President Muhammadu Buhari will not return from his medical trip in London.

The IPOB leader made the declaration while addressing his followers in Nri, Anambra State.

Kanu also warned that the anger of his god will descend on the people of Anambra if they went ahead to participate in the November 18 gubernatorial election in the state.

He warned that anyone who opposes Biafra, "what happened to Buhari will happen to the person."

Kanu said, "Anybody that stands in the way of Biafra will be destroyed.

"I have not made any pronouncement that did not come to pass.

"I am saying that there will be no election in Anambra State on No­vember 18. "Nobody can stop IPOB. Bi­afraland is grossly marginalised; we have no good road, no electricity, no source of water and so on.

" I am sure that Buhari will not come back again and if anybody said there will be no Biafra, what happened to Buhari will happen to the person."

GISTMANIA earlier reported that the IPOB leader had appealed to his followers to sit at home on November 18 if they want to actualize Biafra.

Also, Kanu had vowed to resist any attempt by the North to Islamise Igboland while he is alive.
---