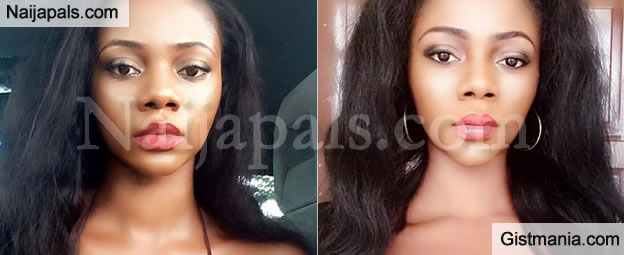 Actress Felicia Fred, recently had a chat with a Vanguard correspondent, where she talked about sex, money and love, she revealed that she is not interested in sex as money is all she wants.

Here are excerpts from the interview;
In your bio you are described as a public figure, do you think you are a public figure?

Well, at this point of my life, of my career I see myself as someone who is just standing out. I feel like I haven't achieved one percent of my dream. Come next two years and I will give you another reply.

What's your love life like?

My love life? I have no comment. It's not my priority at the moment.

So no man has ever rocked your world?

I think my career should rock my world for now. Before I went into Nollywood I had to school and I come from a very religious family. I had very strict upbringing. For now, I am more focused on my career.

You said you're from a religious background; how will your dad feel if he sees that twerking video?

I know he might complain, he will be sad but I will tell him that twerking is an African dance, and I am a proud African, as a proud African twerking is part of our cultural dance. That's what I will use to convince him because I know he will scream. Besides, my dad is my dad, I am me and I have to live my life.

As far as acting goes; what's the limit for you?

I know I can never go naked on screen. I want to be in a movie where anybody that sees it could be inspired and want to be an actress. I know I have admired a lot of people in the past like, Joke Silva, Liz Benson, and these are people that when you see their movies, even kids, learn a lot. Perhaps, if I haven't seen people like that on screen I wouldn't have been this hungry or passionate about acting. I would love to interpret my roles but there is a limit to what I can act. Even at this stage as an upcoming actress I select my roles, I select the kind of movies I do because I want to teach lessons of life by my movies.

What do you really want out of life?

I want to be what God wants me to be. If there is anything I am scared of it's not being what I am capable of being. I want to keep going higher, I don't want to be contented till the day I die. I want to keep working harder, no matter the amount of deals I get, I just want to keep pushing, because on the career you can never be there. Look at Rihanna for instance, she's a musician but still, she went into her clothing line, shoe line and earrings line and she's still pushing; that's what I want for myself. So, no matter what I achieve in life I want to keep pushing till the day I die.

When will you feel segxwally harassed?

To be honest, in this modern age, I don't think people harass people segxwally. It is all about consent; when you are approached you have the right to decline or oblige. If a director says he wants to sleep with you, it is up to you to accept or refuse. But these days the directors are more of victims than the girls, they literally throw themselves at them. They are so desperate that they tell them things like; I have bigger hips than Mercy Johnson give me the role; I have bigger ass than Omotola give me the role and on and on it goes. If you see a director's phone you will be shocked to see the number of WhatsApp messages he gets from actresses begging him and telling him what they can do, on and off set. So, these days it's not more of anybody wants to sleep with, it more like the other way round.

How often do men make passes at you?

You know we are in the computer age, so it's not just about when I step out anymore its everywhere; my Instagram or Facebook. Sometimes, when I am bored and I just want to feel special or beautiful I could just go into my inbox and start reading the love letters and messages, so I will say all the time.

Will you say acting is paying your bills?

A big no, social media pays my bills, through adverts, I also model for companies and I do paid adverts. When it comes to entertainment I pay my bills from social media.

Can marriage or money stop you from acting?

No, because it's my passion, it's what I love to do. Long before now when I did certain things, like the way I react to certain things, people asked me if I were an actress or if I wanted to go into acting, because they already saw that thing in me. I love to act and nothing can stop me from being an actor, I might do other things but I will still act even if it means acting one movie in a year.

Money, love and sex; which is important to you?

To me its money, because when you have love and you don't have money it fades, it dies, you can't sustain it. The country is hard, the economy is hard, and everything is money. For sex, it is not important to me because it can't be my interest where money is.
---
Posted: at 12-08-2017 07:03 PM (5 years ago) | Addicted Hero