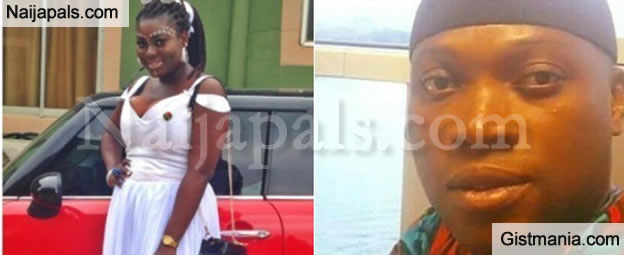 A social media user identified as Àyìnké (@elle.daddy on Instagram), has called out a married man, Chimaroke Ekwueme accusing him of assaulting her and attempting to rape her.
Àyìnké, who further disclosed how she met Chimaroke, also provided audios of their phone conversations after the awful incident in which Chima admitted to have harassed her sexually.
Here's what she wrote on Instagram;
LADIES!! BEWARE OF CHIMAROKE EKWUEME!! AKA @pricamihc on IG.
Before that fateful evening's event which I will narrate to you, this guy was one of the people whose opinions on social media, aligns with sensible public opinion especially on Religion, sexual harassment and rape culture.
On that day, we were in solidarity on @instablog9ja comment section on the issue of the pedophile who followed a ten year old Into the female toilet at Domino's pizza, remember that post? He strongly condemned the act of pedophilia, rape, sexual assault and sexual harassment. And men must establish consent in and sexual situation. As he normally does.
In the DM we continued our conversation on this topic and he asked me out to talk over drinks, which I accepted cos he stays not far from me and the venue was an open place and had the perfect ambience to engage in some cerebral conversations.
I met him at the venue and we greeted, I ordered a Long Island and he had a bottle of beer. We settled down and immediately got to chatting. I discovered that during the course of our conversations, he subtly kept deviating from topics and eventually discontinuing them , I noticed he was panning out of things to say really quick. I thought maybe it's just a case of people who find it difficult to express themselves orally and would rather write things down, because the impression he gives on social media is that of an open minded, Intellectual.
After a short while, he suggested we leave where we were and go to a club which i refused , I told him this was just supposed to be a quick chat and not a full blown night of rowdy fun and that was what I came out for. Moreover how are we supposed to hold a conversation in a club where music would be blaring? , he agreed and said OK.
Barely 2 minutes later, he suggested we went to another place and I said no, then he started acting uncomfortable and said he just wanted to leave where we were and I said okay then, you leave and I'll head back to my house as initially planned. He said no he was enjoying our conversation but he just wanted us to move to another place. So I said okay, but i don't want Loud music and all. CNTD
She further wrote; (shared with an audio attachment)
UPDATE ON CHUKWUEME aka @pricamich member of the #freethesheeple movement.
PART 1, 2 AND 3
After I made that post, he called me and a lady who claimed to be his sister also called me. Knowing the kind of society we live in , the culture of victim blaming is rampant so I recorded the whole conversation .
Everybody on social media who knows me will agree that I live my life as an open book and I don't pretend to be who I am not.
This guy is a bloody hypocrite and has shown potentials of being a rapist and my only aim is for women to know about him so they don't even consider starting a friendship with him.
You all may not know this but I am a 2 time rape survivor . First time at 16 and the second time at 21, I know what it took me to be able to trust members of the opposite Sex again. Due to that I don't take such issues with levity.
CHUKWUEME, if you are reading this remember at some point when you got frustrated that I didn't yield to you advances you said "this is why it's easy to hang out with dumb girl" well next time single out a dumb girl to prey on.
But by the time these audios circulate , even the dumbest girl in the country will know your name and face and know better than to enter your slaughter slab.
For the doubting thomases , listen to then audios and let sense fall on you.